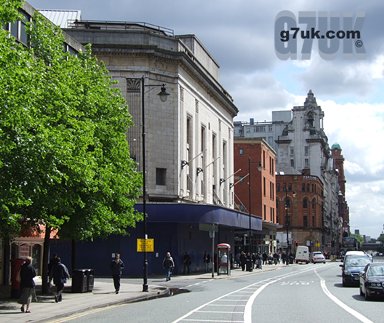 Manchester's former Odeon cinema, on Oxford Street, has been subjected to a 'systematic and methodical' assault to prevent it being preserved, according to the man who tried to save it.
The cinema opened as the Paramount in 1930 with 1639 seats.
Local historian Eddy Rhead asked that the baroque style building be granted listed status. However, English Heritage wrote to him to say that his attempt had been unsuccessful. They explained that considerable damage to the inside of the building, along with the removal of many original fixtures, meant that there was not much left to preserve.
It seems that most of this damage has occured since the Odeon closed in September 2004.
A gallery of photographs on the Manchester Evening News website shows the vandalism. The report quotes the current owners, Manchester & Metropolitan, who claim that the interior was already damaged when the company took over the building. However they add:
'Since our ownership, which followed the cinema's demise in the face of the demands of the modern cinema user, we have carried out only limited and entirely lawful exposure works in anticipation of the forthcoming redevelopment.'
The question is, why would anyone need to carry out 'exposure works' when their aim was to 'redevelop' the site?
Manchester City Council has now approved plans to demolish the building and replace it with a 14 storey office block. Here's a photo of the horrible proposed block.
I understand that, in 1998, English Heritage arrived to assess the Capital cinema, which stood at the junction of Parrs Wood Road and School Lane in Didsbury. They found that, the night before, someone had erected scaffolding and chiselled away the ornate tiles that were one of the most interesting features of the cinema.
There was nothing left to list. The building — which was the studios of ABC Television in the 1950's and 1960's — was demolished and an apartment block now stands on the site.
English Heritage and Manchester City Council have also failed to do anything practical to preserve the Welsh Baptist Chapel on Upper Brook Street which had its roof removed eighteen months ago. It is owned by Manchester City Council. The site for another tall building in the future perhaps?
When will we see an end to this mindless destruction of Manchester's heritage in the name of profit?
© Copyright g7uk.com