The website for Manchester Pride 2007 is up.
In the past year, the Charity Commission has told Operation Fundraiser and Manchester Pride that they must be more open with the public about where money goes and how they account for the income.
For the first time, the Manchester Pride site lists the amounts raised since 2003. It also shows how the relatively small 'profit' was distributed to good causes.
It mentions that the profit in 2006 was £126,000 and that only £70,000 of that was distributed to charity. But it doesn't say where the rest of the money went.
It went to HM Customs and Excise. The taxman had decided that, due to the way it had been organised since 2004, Manchester Pride was no longer a charity fundraising event. So the organisers were presented with a VAT bill for the previous three years.
This is the real reason why Operation Fundraiser is 'hanging up its collection buckets' this year. Its position had become untenable. In 2006 it had produced one of the smallest charity amounts in the 17-year history of the event. But even without the VAT bill in 2006, the fact is, despite its enormous income and ten-day programme, Manchester Pride has consistently raised little more than the free-to-enter GayFest did in 2000 (£105,212 in 2000).
From 2003 to 2006, Operation Fundraiser handed over hundreds of thousands of pounds that it had collected from the public, to Manchester Pride (it was called Europride in 2003), to cover the costs of running the event. In 2003 Operation Fundraiser handed over £200,000 to cover costs. In 2004, 2005 and 2006 the amount was at least 50% of the money Operation Fundraiser had collected from ticket sales and buckets (50% was probably slightly less than the £200,000 in 2003). Operation Fundraiser then had its own costs to take off.
Until recently, Manchester Pride was a not-for-profit organisation. However it seems it was effectively part of Marketing Manchester, which describes itself as the tourist board and is a 'company limited by guarantee'.
As recently as April 2007, Manchester Pride and Marketing Manchester shared the same office and even the same telephone and fax numbers.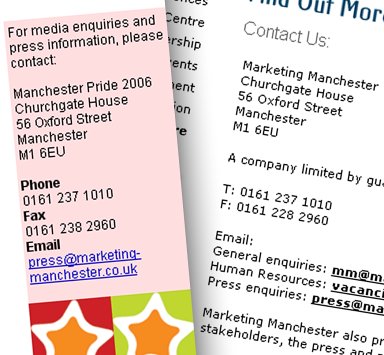 If you emailed Manchester Pride you could well get a reply from a Marketing Manchester email address. Very cosy… In 2003, Manchester Europride didn't even have its own separate accounts. It was all part of Marketing Manchester. The tourist board…
Interesting to see that in 2003, £71,136 was spent on marketing. £31,136 of this was on UK marketing and £40,000 on international marketing. That £40,000 came from a grant from the Regional Development Agency. Compare this to the previous year when total costs for the entire Mardi Gras 2002 event were reported as being just £106,000.
Was it really necessary to spend £31,136 on UK marketing? I suggest that the UK gay community would know about Manchester Pride and come to it without this publicity.
Like many things associated with Manchester Pride, I suspect it has more to do with providing jobs for marketing people and all the other blood-suckers who now leech off something that started off in 1990 with the aim of raising money for good causes.
And, with only around 36,000 people buying a ticket each year, exactly how many of those attending are from outside the UK? Does the number justify the £40,000 that was spent on international marketing in 2003? I suggest it does not. Even if 10% came from abroad, that would be £40,000 spent just to attract 3,600 people.
Sure, the international marketing was paid for by the Regional Development Agency that year. But that money could have gone on something else. It shows how the main priority has been to try and make this a huge event so it will bring in the maximum amount of cash for Manchester's businesses: hotels, shops, restaurants…
In 1999, Manchester City Council boasted that Mardi Gras 1999 brought in £20m of business to the city. That was the year when the charities got nothing at all (see a video on YouTube about this). In 2006 they got just £70,000.
Many people think that fundraising is no longer a major part of Manchester Pride. Customs and Excise think this and even the Charity Commission says so.
In the question and answer section, the website states:
'In the past four years Operation Fundraiser, working together with Manchester Pride has raised nearly half a million pounds which has been distributed to over eighty local LGBT and HIV groups and charities and benefited a wide range of diverse projects.'
But consider that in that same four-year period, by the city council's own admission, businesses have enjoyed more than £80m of income thanks to Pride — 160x the amount that has been raised for good causes.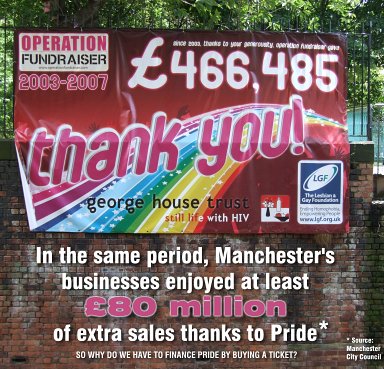 From this year, Manchester Pride will become a charity in its own right. But will anything really change?
On the new website, Manchester Pride still doesn't tell us the costs, how many tickets are sold each year, how much money Manchester businesses contribute, nor how much those businesses make from Pride each year.
Since the rather devious set up between Operation Fundraiser, Manchester Pride and their marketing and city council cronies was put in place in 2003, it has become very difficult to get any information out of them. The spirit of openness that was introduced after the disaster of 1999, suddenly evaporated.
My investigations show that the event sells about 36,000 tickets each year at £10-£15 each. In the October 2004 issue of outnorthwest magazine, Paul Martin of the Lesbian and Gay Foundation refers to the '36,000' who attended Manchester Pride in 2004.
This figure would give an income from tickets sales of between £360,000 and £540,000. Immediately you can see that the £70,000 raised for charities in 2006, is a real pittance by comparison. It is somewhere between 13% and 21% of just the ticket money income.
And that's ignoring all the other money that Manchester Pride receives. The site lists these other sources of income:
* financial contributions from partners e.g. Marketing Manchester, Manchester City Council, the Village Business Association

* sponsorship partnerships with local, national and international companies

* grants from funding bodies e.g. North West Development Agency, Arts Council England North West

* outdoor bar and food concessions

* market stalls for commercial traders

* lifestyle expo for groups

* commercial parade entries
Note 'commercial parade entries'. No mention of the £50 fee that HIV and other charities and non-profit organisations had to pay to walk in the Saturday street parade in 2006. Is there still a fee for them in 2007 I wonder?
The poster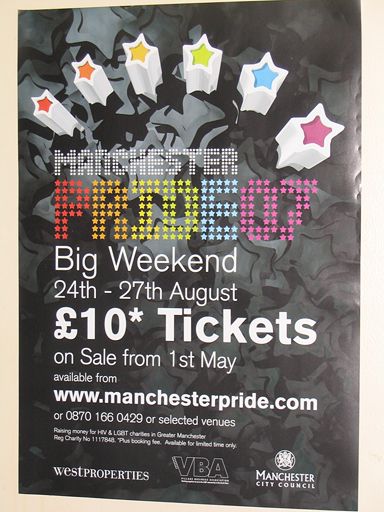 According to the site, Manchester Pride is 'Manchester's annual festival celebrating lesbian, gay, bisexual and transgender (LGBT) life.'
Strange then that the poster for Pride 2007 doesn't even mention the words 'lesbian', 'gay', 'bi' or transgender'. It merely says 'LGBT' and only then, as you can see above, in a sentence in tiny print: 'raising money for HIV and LGBT charities'.
What kind of 'celebration' is this? So much for 'out and proud'. I suggest those words have been left off because they may put off some straight people from attending and that would mean less sales for businesses.
Similarly, despite the vocal opposition of many in the gay village to the development of the car-park next to the New Union, Manchester Pride has accepted sponsorship from the developers: West Properties. West Properties has its logo on the Pride poster, yet the words 'lesbian', 'gay', 'bi' or transgender' do not appear on it. Sickening…
Manchester Pride says the words were left off because there 'wasn't space'. Obviously it's more important to squeeze in the Manchester City Council and West Properties logos…
Pride is for the LGBT community they say, so everyone will know what LGBT means.
* Video contains strong language *

Crowd figures
Good to see that the phoney crowd figures for the Saturday Parade have now disappeared from the Manchester Pride website.
Back in February I showed how Manchester Pride and the Manchester Evening News had exaggerated crowd figures for the parade by up to 500% in recent years. Pride is a meal-ticket for many people these days — from security guards and z-list celebs to organisers and charity professionals. They don't want the gravy train to come off the rails or for someone else to come along and run Manchester's annual gay event (as happened in 2000). So they prop it up with false figures, spin and hype.
My calculations showed that it was physically impossible for the claimed 250,000 people to fit in the streets along the route. Even if the crowd filled all the roads entirely, quarter of a million would not fit. The true attendance figure for the Saturday Parade is 'tens of thousands', as reported by the BBC.
When faced with my calculations, the best explanation Manchester Pride could come up with was that the 250,000 included people who had seen coverage of the parade 'on TV'.
In 2006, when the organisers told advertisers that the parade was 'an ideal opportunity to put your business in front of over 250,000 people,' would anyone really imagine that meant 50,000 on the streets and 200,000 watching on TV?
Sorry, bang to rights Manchester Pride! On 25 August 2006, in the article 'We'll attract record crowds predict Pride festival chiefs,' The Manchester Evening quoted Andy Owen of Manchester Pride. He told them that in 2005 'about 250,000 people' had 'gathered' in the city centre to watch the Saturday Parade and that this was a figure that the 'police estimated'.
People who watch on TV do not 'gather' in the city centre.
When I asked Greater Manchester Police how they had estimated such an inaccurate attendance figure, they told me:
'With regards to the estimated attendance figures we get those direct from the organisers.'
So, once again, the 250,000 fib could be traced back to Manchester Pride/Marketing Manchester. It had not come from the Police. The organisers were using the Police to give their fake attendance figure an air of credibility.
The September 2005 edition of OutNorthWest magazine repeatedly states that 200,000 people will watch the Saturday Manchester Pride parade and even suggests this figure will be on top of the '45,000' who will 'party' in the gay village. Yet just a year previously, OutNorthWest had quoted Paul Martin of the Lesbian and Gay Foundation who said that only 36,000 people had attended (ie. bought a ticket) in 2004. The BBC reports that 'tens of thousands' attend the parade and this fits with my calculations. And, undoubtedly, many who watch the parade are the same people who buy a ticket. There is compelling evidence to suggest that the total number of people who attend Manchester Pride, whether in the village or at the parade, is less than 50,000.
However, the lies go way back. In 1999, and on a similar parade route, the organisers of Mardi Gras claimed that 600,000 people had been spectators on the city streets. A figure that is more than one quarter of the entire population of Greater Manchester (population 2.2m)! All standing on a couple of streets in Manchester city centre and still leaving enough room for a parade to travel along.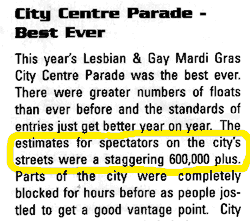 And, on 29 August 2001, in the article 'Fury Over Rubbish left by GayFest Revellers' (see it here), The Manchester Evening News reported that 'on the Saturday 385,000 people turned out to watch the Parade'. That would be a crowd more than 35 people deep on both sides of the street, along the entire route. Yet my photos from 2001 show that the crowd wasn't even continuous ONE person deep in some places and there was plenty of room on the pavement for pedestrians to walk behind the people watching. What lies…
GayFest 2001. The year when supposedly 350,000 people watched the Parade according to The Manchester Evening News. In this picture the Parade is passing along Cross Street which is the heart of the shopping area. Yet you can see that people are able to walk along the half-empty pavement.
See my calculations for the parade attendance here.
We can have a better Pride celebration in Manchester. It can be more inclusive of all ages and backgrounds, free and raise more than these pitiful amounts for good causes. Plans are afoot for a small alternative to Pride this year. Stay tuned and please support it…