I'm a bit late posting about this. February is Lesbian, Gay, Bisexual, Transgender History Month. Details of events in Manchester can be found here and see the leaflet below.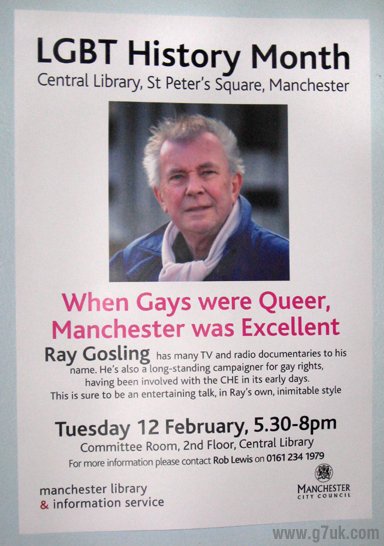 On Tuesday night we went to the Central Library for a talk by writer and broadcaster Ray Gosling who is also a long-standing campaigner for gay rights, having been involved with the Campaign for Homosexual Equality in its early days.
There's an audio recording and part of that will be online on the Get Bent! site once it's been edited.
After the controversy about the Manchester Pride poster last year and the claim by the organisers that 'everyone' knows what LGBT stands for, I was bemused to find that the staff on the desk at Manchester Central Library didn't know what the initials meant (it's not a bacon, lettuce and tomato sandwich with something extra, love), nor anything about the event, despite there being a poster on the wall immediately opposite them.
I suspect city council employees would have been far more clued up about this twenty years ago. Perhaps it's another sign of how things are better in some ways and not in others these days. This was a theme that Ray Gosling also touched on in his excellent talk.
Anyway, thanks to the Library for hosting the event and looking after us with free refreshments!
Broadcaster and veteran gay rights campaigner Ray Gosling at Manchester Central Library on 12 February 2008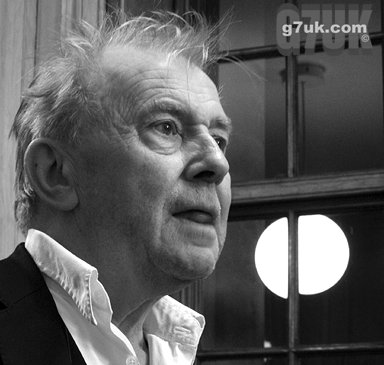 Events for Lesbian, Gay, Bisexual and Transgender History Month at Manchester Central Library