I have a new camera (yes another one).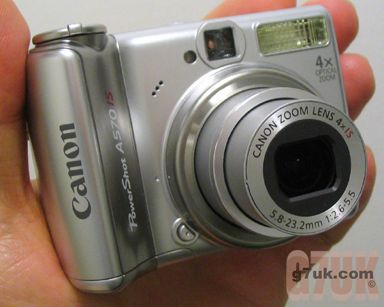 Since 2004 I've had a Canon Powershot A70 which I've carried everywhere. I've taken tens of thousands of photos with it and used the movie facility a lot too. Many of the 'new features' that come along are gimmicks and more recent models aren't always better than what went before. For instance, Canon removed the full manual mode from some of its more recent Powershot cameras.
It takes something special to persuade me to upgrade.
In the case of the A570IS, one of the special things is the image stabiliser. I like shooting pictures in natural light so this is a genuinely useful feature. The stabiliser moves the lens to compensate for shaky hands. Which means I can use a slower shutter speed when handholding the camera.
After two weeks of picture-taking I've found that about one out of three of my shots at 1/4sec are pin sharp. The best method is to set the camera to take multiple shots. That way you avoid movement caused by pressing the release button.
The camera offers ISO 1600. But, as with most compacts, image noise starts to look pretty nasty above the ISO 400 setting and ISO 800 is probably the highest I'll ever use. But it depends what you're doing with the images. At 800 pixels wide on a website even a less than perfect photo will look fine.
The A570IS is 7.1 megapixels compared with 3.3 on the A70. It's good to have some extra pixels to play with, as I like to crop shots and correct converging verticals on buildings.
The movie mode is super: unlimited length clips at VGA quality compared to 30 seconds maximum on the A70 and 30 frames per second instead of 15fps. Nice image quality which is futher enhanced by the image stabiliser. Sadly audio is still 8-bit mono.
Plus the A570IS has the aforementioned full manual controls which let me use it with my studio flash equipment (I set the output of the flash on the A570IS to minimum and it triggers the studio unit which is in slave mode).
In all a terrific upgrade.
LINKS
Comprehensive review of the Canon Powershot A570IS at Steve's Digicams.