It makes me laugh to see articles on photo websites and in magazines that say a particular camera is for professionals and some other camera is just for enthusiasts or amateurs.
Photo mags are all about selling you expensive equipment. The sad thing is that people are led to believe they can't be creative unless they have some costly piece of kit. The fact is, you can make wonderful photographs with any camera.
As a teenager I was wildly interested in Super 8 film-making and all my money went on that. I had a Kodak Instamatic camera for snapshots.
In 1980, at the age of 18, I did a one year foundation course in art and design. This was my first taste of serious photography but still nothing really clicked for me (if you'll pardon the pun). However I used an SLR for the first time (a Zenit) and went out and bought my own: a Pentax K1000 which cost about £150. The K1000 was a solid manual camera. The only luxury on it was an exposure meter.
Still nothing much happened until I was 23, when I found myself out of work, with a large tax refund and a growing interest in photography. I went out and bought darkroom equipment.
For the next four years I worked part-time and spent the rest of my time taking photos, in the darkroom making black and white prints and writing an increasing number of illustrated articles for magazines.
In 1989, at the age of 27, I went full-time as a self-employed editorial photographer and journalist and, by the time I was 30, I'd probably had around 1000 photographs and 100 articles printed for payment (I never gave away anything for free).
Just before my 30th birthday, and out of the blue, an editor called offering me a full-time job as features editor on a national magazine based in London. Which I accepted. There, I was responsible for commissioning photographers and choosing photos to use with features. But after a while I went back to freelancing because I missed it so much.
I continued to make a decent living from magazines until around 1997. By which time I'd long since stopped counting how many of my articles and images had been published.
Over the years I supplied pictures to glossy magazines, companies and to tourist authorities for top notch brochures.
The point of telling you this? Well guess what? I've never owned a Nikon camera, or any 'professional' 35mm SLR.
Just about every one of the many thousands of 35mm colour or black and white shots that I had published was taken with that Pentax K1000 or with an Olympus Trip rangefinder camera (35 RC) that I carried with me everywhere and which I'd bought secondhand for less than £100.
When I was asked to start shooting magazine cover shots I bought a Mamiya C330S twin lens reflex camera so I could supply 6x6cm transparencies. So a small number of published photos came from that.
Out of all the editors I worked for, over twenty years, I never met one that was the slightest bit interested in what camera or lens had been used to take a particular photograph. I can't remember ever being asked. All they cared about was whether the picture was sharp and whether the subject was what they needed.
My Pentax K1000 still works perfectly twenty-eight years later and so does the Olympus Trip 35 RC, which dates from the same period. I wonder if my digital cameras will last that long? ;-)
If you're interested in specialist photography (sports for instance) then yes you may need particular equipment and of course there are poor quality cameras around. But, today, many inexpensive digital cameras are capable of producing images that are simply stunning.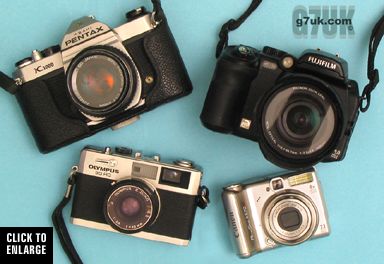 Now I own a Fujifilm Finepix S9600 'bridge' (a cross between an SLR and compact) camera, with a Canon Powershot A570IS to carry everywhere. Neither are 'professional' cameras according to the experts. But no doubt I'd still be selling lots of photos from them, if only the bottom hadn't dropped out the market for editorial photography over the past decade. Now I make money by publishing my images on my own websites.
So to everyone out there, and especially to youngsters, I say, whatever your interest: photography, film-making, making music… Don't be put off following your dreams because you can't afford some pricey piece of gear that some expert tells you is essential.
For creative people there has never been a more exciting time than now!