As marketeers, estate agents and other vested interests continue to talk up property in Britain's city centres, the reality begins to emerge in newspaper articles.
The Guardian reports on Albion Mill in Manchester which it writes 'has few, if any, rivals to the title of the British housing development hardest hit by the recent economic downturn'. This week, one flat that was bought for £236,500 three years ago will be sold at auction with a guide price of £100,000.
Of the 58 apartments in the Mill, 28 have been repossessed since it opened three years ago. There have been eight more repossessions among the 229 apartments in the rest of the complex.
'The problems for buy-to-let investors at Albion Mill have been exacerbated by the flats' failure to attract sufficient rent to pay the mortgages. A £200,000 flat with a full mortgage would cost £1,200 a month in interest, but the rent is typically no more than £800.'
Urban hipsters who rushed to buy at Albion Mill, found themselves owning a property in the middle of an urban wasteland. It's true that more developments are under construction in the surrounding area, and in nearby Ancoats, but even some of the property cheerleaders sound a warning:
'It really is a good decade before Ancoats will become the 'new town in the city' it is cited to be.'
In other words, you may find yourself with a property that is surrounded by dereliction or building work and with few amenities nearby. If there is a recession, some regeneration schemes may never reach completion.
Are the wheels about to fall off for Manchester's urban hipsters?
Nearby Beswick is no stranger to negative equity. In 2001 The Guardian reported that semi-detached houses built in Beswick by Tay Homes fetched less than half the £46,000 they were sold for in the 1980s. At the time of the article, the owners were fighting the compulsory purchase orders that were necessary to make way for the current wave of 'regeneration'. They were only entitled to receive the market value of their homes, not the much higher amount they had paid. Not suprisingly, they weren't keen to move.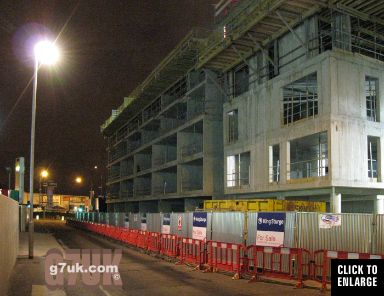 New apartments under construction in Laystall Street, Manchester city centre, March 2008. The world's first transatlantic cable was probably spun at a wire works that stood on this site. The historic disused building was due to be converted into apartments but then was damaged by a fire in September 2000. It had a chimney that was probably unique (and apparently, in its final years, was a notorious place for 'cruising'. But that's another story).
I understand that developers must pay VAT on buildings that are renovated but not on new builds. Which is one of the reasons why so many old buildings disappear.
However it would be wrong to think that it's only the more outlying 'renewal areas' that currently have negative equity. I understand that apartments right in the city centre do too, including in the gay village area.
'Fears of oversupply seem well founded.

DTZ research shows the flat market in Manchester grew from 1,000 in 1997 to 16,200 at the end of 2007. Manchester city centre has around 3,300 units under construction, which will bring the total stock up to 19,500. There are a further 11,300 units in the planning pipeline for the city centre. If these are built, this would bring the total stock to 30,800.' propertyweek.com
Back in January, The Times reported that there were 15,000 unoccupied flats in Liverpool alone. Which is 35% of all city centre flats there. Does anyone really believe that the value of flats will hold up in a situation like that?
However, in the hysteria that has surrounded property in recent years, many people have bought without thinking or doing proper research, sometimes 'off plan' before properties are built and, in some cases, without even visiting the area.
Curiously the propertyweek story, published this month, seems to contradict the Times article from January and quotes a Liverpool estate agent who says: 'the market is extremely good in Liverpool right now'.