FULL VIDEO REPORT COMING SOON
The candlelight AIDS vigil on the final night of Manchester Pride has always been a key event and, to some people, the most important part.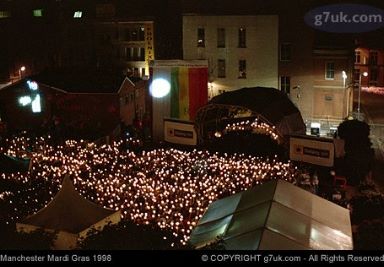 Our documentary report, coming soon, was filmed at Manchester Pride 2007.
Partly shot with the camera at a distance and using a hidden microphone, it shows how people without tickets were made to queue on the street for 40 minutes to get into the Vigil, while ticket holders walked in ahead of them. Some of these people were there to remember lost friends, lovers and relatives and they were treated with disrespect.
You'll also see on-camera how, despite years of denials by the Pride organisers, some security guards tell people there is no entry to the fenced-off gay village for the Vigil unless they buy a Pride ticket.
When Pride was turned into a pay-to-enter event there was supposedly the guarantee that people would be able to attend the Vigil without a ticket. However, ever since, there have been stories of people being turned away. Now here is the proof.
In the preview clip above, our reporter asked repeatedly and was told a ticket had to be purchased. Finally (and not shown in the preview above) a second guard did come over and gave the correct information. But most ordinary people would have given up and walked away by that time.
Plus, see how the security that the ticket is supposed to pay for, was seriously lacking, just two months after the Glasgow airport terrorist attack.
No surprise, as many people believe that the fences at Pride are as much about penning LGBT people in beside various businesses (many of which increase their prices during the weekend) as they are about keeping undesirables out.
The full video will be online in the next few weeks.
UPDATE (8 July 2008)
It seems that ill-informed security people are becoming something of an issue at Pride events. At the recent London Pride 2008, transgender and transsexual women were told by official stewards that they had to use the disabled toilets and couldn't use the womens. This is a huge issue for this section of the LGBT community and it is quite unbelievable that an incident of this kind should happen at Pride in London.
UPDATE (27 August 2008)
We decided to shoot extra footage on the final night of Manchester Pride 2008. We wanted to see if the concerns that we had after last year, had been addressed. We had raised the issues with the Pride organisers and the local MP. We genuinely hoped that we would find no problems in 2008 and would be able to report that fact at the end of the video.
We expect to have the finished video online soon.