Last summer, Trading Standards told the organisers of Manchester Pride to cease publishing material that claimed crowd figures of 200,000 or 250,000 people at the Saturday Pride parade.
Pride agreed that it could not substantiate the figures and would stop until such time as it could justify the numbers with an independent source.
Substantiating a figure of 250,000 will be difficult because the 2008 parade route was about 2,270 yards long and in most places the streets are only about 15 yards wide.
2,270 x 15 = 34,050 square yards.
Squeezing 4 people into EVERY square yard of pavement and road would only give a crowd of (34,050 x 4) 136,200 people and leave no space at all for a parade.
Pride agreed to stop before the 2008 event. However, the phoney figures keep popping up. I wonder where they are coming from?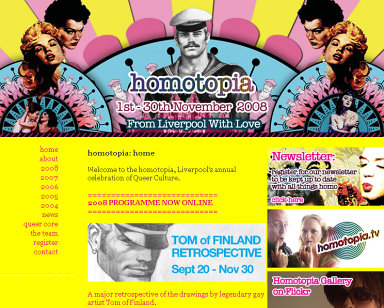 For example, the booklet for Liverpool's Homotopia festival, which took place last November, includes a feature about Merseyside Police and it includes this paragraph about Manchester Pride 2008:
'This year saw the world's biggest Police contingent taking part, with over 250,000 people lining the streets'.
You can download a PDF of the booklet here. The quote is on page 16.
We've asked Homotopia where the misleading figure came from and will keep you informed.
Update (5 February 2009): Homotopia replied very promptly saying that the article had been supplied by the Merseyside Police marketing office and published in good faith. Later the Police told us that it was their understanding that the figures had come from Manchester Pride.
It is a scandal that for more than ten years the public has been grossly-misled about the size of the crowds at Manchester Pride and that these exaggerated figures continue to be published.