The Conservative party conference is taking place in Manchester at the moment and last night Spirit Bar on Canal Street was the venue for their LGBTory event. The first-ever official conference Pride event.
There are two versions of this video. The first includes Steph Pike's poem about David Cameron (thanks to Steph for giving permission). Watch the second version if you would like to hear more of the live sound including the discussion.
Around thirty protesters gathered outside. This excellent article has a full account of the protest.
In the video you can see Theresa May, Shadow Secretary of State for Work and Pensions and Shadow Minister for Women, who was one of the special guests at 'Conference Pride'. Eric Pickles the Chairman of the Conservative Party was also there. A group of Christians stood at the end of Canal Street waving banners
Around the corner, the Poptastic club held its own special night called Tory Shame, with a drag queen dressed up as Margaret Thatcher.
Earlier in the evening Channel 4 News reported that equality campaign group Stonewall had pulled out of 'Conference Pride' in protest at the party's right-wing allies in the European Parliament.
And Jon Snow talked to actor Stephen Fry and Conservative MEP Dr Charles Tannock.
Stonewall itself has come under fire from Peter Tatchell recently. The new government equality bill excludes LGBT people from anti-harassment clauses and Tatchell thinks that Stonewall has failed to challenge this adequately.
Some people are coming to the conclusion that certain gay organisations such as Stonewall are much too chummy with New Labour.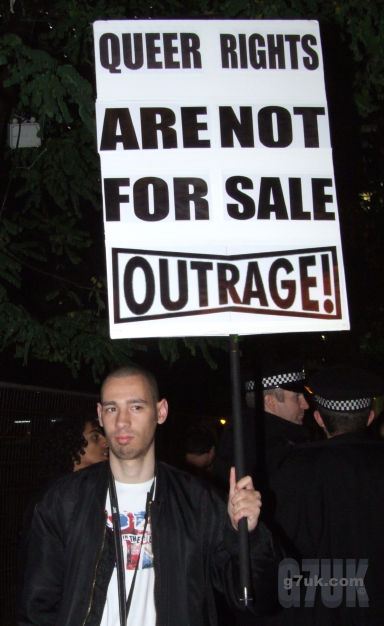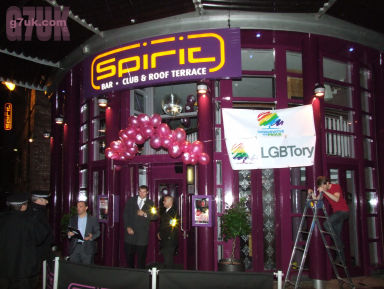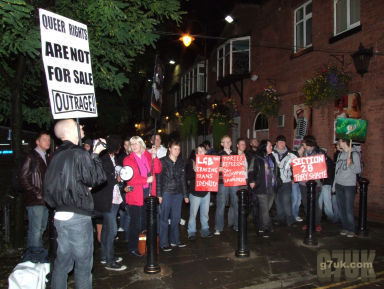 PERSONAL VIEW
I went along to the protest mainly to shoot video and photographs. I'm not a Tory hater. I don't support the Conservatives or Labour but, if anything, at the moment I hear more things that I like the sound of coming from the Tories. Particularly on civil liberties, which is one of the main concerns for me. Though I have serious reservations about other areas, such as private companies being involved in the NHS and other public services. Not to mention the right-wing European links.
But I don't think Britain can take another five years of New Labour.
I quite like Theresa May, so didn't support her being booed! At one point I was asked to look after a Pride Is A Protest banner and was then collared by a Conservative MP who asked me what the protests were all about. To their credit, a number of people who were attending were willing to engage in long discussions with the protesters. I would have liked to have recorded some interviews but I'd been up since 5am and was feeling rather sleepy!
Some couldn't understand why anyone who was lesbian, gay, bi or transgender would be anti. But to some of the protestors it was just yet another high-cost elitist club event in the gay village: an area which, despite the relentless media hype, excludes more LGBT people than it includes.
As he left, Andrew Stokes of Manchester Pride told us that LGBTory will donate a small amount from every ticket sold to Manchester Pride. Channel 4's Gary Gibbon reports that the Tories have made nearly £1.5m profit from their conference.
The only other LGBT event at the Conservative conference is 'Why Gay People Should Vote Conservative' but, bizarrely, this is only accessible to those who have a conference pass. Talk about preaching to the converted!
During Pride we had the LGBT Labour discussion which was free and open to all. I hope the other parties will follow suit and arrange public meetings where issues can be discussed in the run up to the general election.
OTHER COVERAGE
* 'Tories ignore protesters to take Pride in first gay club night' (The Times)
* Why should gay people vote conservative?: the LGF has a comprehensive write up about this Tory Party fringe discussion and has extensive daily coverage of the Conference.
* Gay Tories hold first pride night a BBC article which gives the impression that all the protesters outside were from Outrage. When in fact there was a mix of different groups and individuals.
* First official gay Tory party hailed a success despite Stonewall boycott (Pink News)
* Conservative political blogger Iain Dale has an interview with Michal Kaminski of the European Reform Group in the European Parliament.
* On a lighter note, some wag has made this satirical video about Theresa May's choice of outfit today: