The police and Manchester City Council have announced the latest 'crackdown' on cruising in the city's canal area. The Lesbian and Gay Foundation has promoted this in an article on its website, listing the various jail sentences that cruisers might incur (supposedly).
The article ends with the suggestion that, for more information, readers may like to contact the 'City Centre Neighbourhood Policing Team'. For some, this will be further proof that our community is run by an elite who are out of touch with the reality for many people and more interested in ingratiating themselves with the authorities than sticking up for our rights.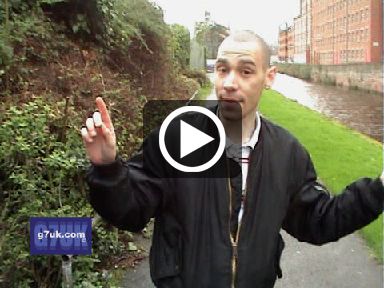 David from Outrage visits the canal at Ancoats, talks about some of the issues and calls for a cruising tolerance zone. The main page for this video can be found here
Gay and bi men have used the canals as a meeting place, probably for more than a hundred years. But, since a peak in the late 1990's, there has been a big decline in the number of men who cruise in the area. However it's starting to look as if this harrassment and intimidation won't ever stop until every last one has been driven away. And why should they be?
Some people think that behind it all is 'old-fashioned homophobia' and that some residents object to the mere sight of men being around the neighbourhood, meeting and chatting late at night.
The LGF article is strong on respect for the residents, the prohibition and what punishment may occur, rather than on the legal rights of gay and bi men who use the area. Sex in a public place (other than a toilet) is not illegal, unless it's witnessed by more than one person and those involved have not taken enough measures to hide themselves.
There is no mention of what do if you face a caution. When, in fact, accepting a caution is an admission of guilt.
This establishment approach would have been unthinkable from any gay charity or publication a decade ago.
But cruising is not just about sex anway. I would suggest that the vast majority of visits down to Ancoats do not result in sex a public place.
For men who don't like the commercial gay scene for whatever reason, can't afford it, or who are in the closet, cruising may be their only way to meet other "men who have sex with men." Guys sit and chat, wander around — some enjoy the 'thrill of the chase' — some go home with each other and a few do end up having sex down there.
When it comes to them doing that discretely, Manchester City Council hasn't helped matters in recent years by floodlighting the entire area and fencing off any dark areas.
Alcohol is at the root of most problems in the city centre. But due to the vast profits it brings in for businesses, it's the one thing that the authorities will not face up to and tackle.
Ironically, the extreme binge-drinking and drug-taking culture of the gay village has also impacted on cruising in Ancoats. Whereas, years ago, it used to be quiet and discreet, now drunks stagger along from Canal Street, shout and scream, fall into the canal, pass out and provide easy prey for opportunist criminals. All of which is manna from heaven for those who are looking for any excuse for the latest crackdown.
Predictably, articles about this crackdown have been accompanied by comments from narrow-minded gay men who have embraced the commercial, packaged gay lifestyle themselves. As a result, they believe that now there are gay bars, saunas and Gaydar, there is no need for anyone to go cruising.
This is a worry. Especially as some work in jobs at gay organisations and in the media and so have a conduit for their myopic pink pound hype. They're a threat to the vast silent majority of LGBT people in the UK, who aren't interested in any of the above and so are overlooked and ignored. Read more in my article about the 'pink peak minority'.
It would nice if those in authority could drag their attention away from Ancoats for a little while and do something about the violence, open homophobia, drug dealing, binge drinking and murders that happen half a mile away in the gay village.
However the police in particular have a long history of being more interested in harrassing harmless gay men who are possibly playing with others willies, than in tackling violent criminals and other serious crime.
LINKS
* The LGF added a second article on 9 November with some very useful information on rights.
* Manchester police step up patrols in gay cruising area – Pink News
* Community concerns cause extra patrols in cruising area – the original LGF article
* Gay cruising in England and Wales – Wikipedia
* Peter Tatchell's thoughts on cruising
* Outrage! call for cruising tolerance in Manchester – Pink Paper. Local Councillor Paul Fairweather (Harpurhey ward) is quoted as saying that cruising the canal area is an 'unlawful' activity. I don't know if he has been misquoted, but what he says is just plain wrong.
I find it disturbing that prominent figures from within our own community are putting out this misinformation and I wonder why? Are they so desperate to be seen as part of the establishment and 'pillars of society'?
To quote GALOP:
'There is no law specifically prohibiting cruising, and sex in public places is not illegal as long as other people who might be offended cannot see you and are unaware that you are having sex.'
'It is not against the law for people to loiter, engage in conversation or walk around a cruising ground with the purpose of meeting others. In other words, you can not be arrested simply for going cruising.'
Check out GALOP's comprehensive guide to your rights (look under 'for individuals').
I wrote to Councillor Fairweather by email on 13 November 2009 but he didn't reply.
* Get your kicks on the Gay 616 – Worksop Guardian. Inflammatory article in which the author describes gay men and 'men dressed in women's clothing' as 'perverts'.
* Police step up patrols to combat 'sexual activity' in woods – This Is Nottingham. At least in this one the police outline the real legal situation. I'm not sure seven complaints since 2006 makes it a crime hotspot.
Funny how all these stories sound the same. It's beginning to look like some kind of organised anti-cruising campaign nationwide. Part of the problem is that, even in a huge city like Manchester, there's a complete lack of inexpensive or free places to meet or hold events. Why can't we have publicly-funded free places to meet away from pubs?
UPDATE (8 April 2010)
* Northampton gay community to report council to Police in row over gay meeting area – the news team at Manchester's LGF reports on possible discriminatory behaviour by Northampton Borough Council. It says the Council has whipped up a 'local media storm' as it attempts to put a three storey floating restaurant in the middle of a secluded gay meeting area. But why are so few people in our community in Manchester standing up in a similar way to defend cruising areas here? When even Manchester councillors who are gay themselves, such as Paul Fairweather, spread misinformation about cruising being 'unlawful'…