Fifty years ago today, on 10th April 1960, the premiere of the film Hell Is A City took place at the Apollo cinema in Ardwick.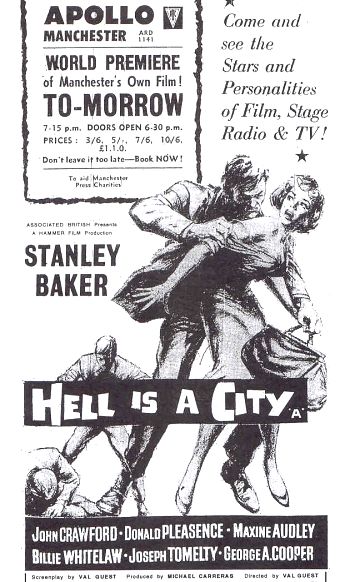 Click on the image on the right to watch the British Pathe newsreel report of the event.
Based on a book by a Manchester policeman, the film follows police inspector Harry Martineau as he tracks down escaped felon Don Starling, a villain he 'put away' some years before.
If you know Manchester but haven't seen this film then you're in for a treat. It includes many familiar faces, including Stanley Baker, Billie Whitelaw and Donald Pleasence. Plus there's the chance to spot numerous locations as they were half a century ago: Mosley Street, Piccadilly Gardens, Lewis's Arcade, Corporation Street, Levenshulme, Kingsway and Whalley Range. With a final dramatic scene on the top of the Refuge Assurance building on Oxford Street.
Manchester's city fathers weren't pleased by the title and theme of the film and, on a grimmer note, I've always wondered if it might have influenced the 'moors murderers' Brady and Hindley, as there's a scene where a body is dumped on the moors.
Some of the dialogue and attitudes are out-dated to say the least, such as where Martineau tells his depressive wife that maybe she should have a few babies to give herself something to do! And towards the end there is a prostitute who has one of the poorest Manchester accents I've ever heard. So these more creaky aspects of the movie give some unintentional laughs along the way too.
A highlight is Vanda Godsell as 'Lucky Luske' the tarty barmaid who has an eye for the married inspector. Could she have influenced the character of Elsie Tanner in Coronation Street, which launched later that same year? And you might recognise Doris Speed ('Annie Walker') who appears in a small role as a hospital matron.
Surprisingly few feature films have been made in Manchester over the years and this is one that is well worth seeing.
LINKS
* A terrific site with lots of background information and then-and-now photos.