As I arrived in Rusholme on my bike at 8 o'clock on Monday night I was startled to hear the sound of breaking glass and see a man falling backwards out of Subway.
He was clutching a broken bottle by the neck and a member of staff was holding up a chair in self-defence, in much the same way as a lion-tamer might do.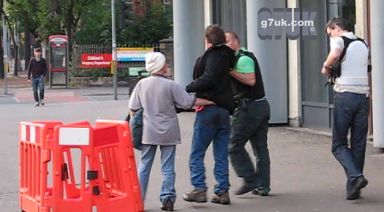 Almost immediately a car screeched to a halt on Wilmslow Road and two men jumped out. One flipped open a collapsible truncheon and, shouting, they grabbed the man who was staggering about with his female friend.
It was a bizarre scene as they marched him down the street. One of the men giving him what I would describe as a 'good talking to'. They disappeared around the corner and I went into Tesco.
By the time I came out, the man was back and sitting next to the cash machine asking for money. It seems there were no consequences for him, whereas the staff of Subway were left to clear up the glass and no doubt felt shattered themselves after the frightening experience.
I've witnessed several other incidents like this in recent years. It's awful that people who work in shops have to put up with it.