Last November I wrote about Robert Rose who was known as the "Bard of Colour" in 1840's Manchester.
I've had some great news. A group of people are documenting the headstones at the Manchester General Cemetery at Harpurhey. You can visit their website here.
Following my research into Robert Rose, in March I wrote to the group to see if they could tell me whereabouts in the Cemetery I could find his grave and hopefully his headstone.
Unfortunately the news wasn't good: there didn't seem to be a headstone for that grave number and it looked as if there was just rubble under the surface soil. It seemed the headstone might have been vandalised over the years and ended up amongst piles of broken stones or even as part of a wall around the grounds.
However the Project added some details about Robert Rose to the list of notable burials on its website.
However, this week they contacted me to say the grave and headstone had been found and I have been lucky enough to see the stone. It seems it was one that lay flat all along and was hidden a bit more deeply than they thought. Here's my sketch of it after a six inch layer of soil was removed temporarily on May 13, 2012.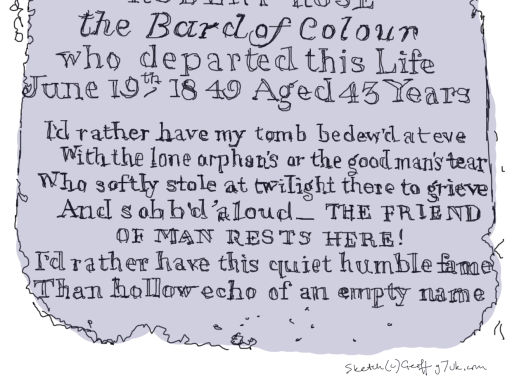 I wonder how long it is since anyone saw it? The Cemetery buildings were demolished in 1959.
It's a simple, attractive design, in great condition, and this is the inscription:
In Memory of

ROBERT ROSE,
the Bard of Colour,
who departed this Life
June 19th, 1849, Aged 43 Years.

I'd rather have my tomb bedew'd at eve,
With the lone orphans or the good man's tear,
Who softly stole at twilight there to grieve,
And sobb'd aloud… THE FRIEND OF MAN RESTS HERE!
I'd rather have this quiet humble fame
Than hollow echo of an empty name.
Having read the various descriptions of the funeral and headstone, it really brings the history to life when you see the monument itself in the present day. We're so lucky this has survived when so many have been lost.
The headstone has been covered over again to keep it safe and well-preserved. Meanwhile my research into Robert Rose continues.
Update: 15 June 2012
I've found quite a bit more about Mr. Rose and will add it when I get the time.