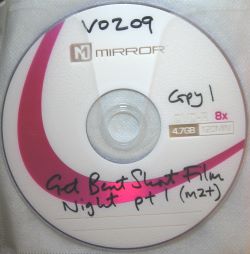 Someone is spreading the rumour that I maliciously "deleted all records of any materials" I had in my possession from the events Get Bent!, Queeruption and Reclaim the Scene.
Since the 1970s, when I was a teenager with a (cheap) movie camera, I've always had an interest in recording news and events for posterity. Apart from the odd out of focus digital photograph or shot of my feet, nothing I've shot has ever been deleted or destroyed by me. Either accidentally or maliciously.
Get Bent! took place in 2007 and I was part of the collective that organised it. I offered to run the website and made a commitment to shoot media of as many of the events as I could.
A version of the Get Bent! website is still online. For nearly seven years I've covered the cost of the annual domain name renewal (about £9 a year) and webhosting out of my own pocket. There have never been any ads on the website. Backups and screengrabs of the website made at various points exist too.
From this alone, you can see that "all records of any materials" from Get Bent! have not been deleted…
I was keen that there would be a record of the week of events because almost nothing had been recorded in previous years. At the time, I had a high definition (HDV) camcorder on loan through work and was able to use that along with a DV camcorder and digital camera. I filmed some events multi-camera using the two camcorders.
We appealed for people to shoot photos and also video which, at the time, was becoming viable on mobile phones. But in the end only one person contributed some photographs.
I estimate there are more than 50 data DVDs of video content from Get Bent! 2007 (a DVD data disc holds 20 minutes of original HDV or DV). That figure doesn't include back up copies. And there's a full back up of everything too.
The archive material includes:
The Collective (photos & video of one outdoor meeting in Hulme)
The Collective (photos of leaflets and programmes being packed)
Poor Children, Perverts and Troublemakers (audio of lecture & photos)
EROTIXXX: Trans Porn Retrospective (audio of lecture & video interview)
Bent Double: Kings and Queens – Cabaret Night (two-camera video of the entire event)
Superheros, Geeks & Anti-heros club night (photos & video)
Bent Double: Jokers and Aces – comedy night (two-camera video of the entire event)
Not Coming to a Cinema Near You! Underground Short Film Night (photos & video of speeches by the film-makers and interviews with some of them. Also DVDs for the screening with specially prepared menus).
Short Film Night showreel: a compilation to promote the night online.
Gay Village or Gay Ghetto? Discussion (photos & video of a large part of the discussion)
Manchester Pride parade: footage of members of the collective and others protesting
The young man who made the claim about deletion knows that all this archive material exists because, in September 2011, we had a discussion about using some of it as part of a retrospective event. The idea being to screen footage, invite original performers and include new ones. I was keen and this was discussed again in 2012.
Turning to Queeruption and Reclaim the Scene, other than attending one meeting about Reclaim the Scene I had nothing to do with organising either of these. I just went along as an ordinary member of the public with a camera. The photographs and video I shot all still exist and are backed up safely.
I hope this clears up any misunderstanding?