In terms of sheer hypocrisy no other British newspaper can match The Sun. Take Tuesday's issue…
On the bottom half of the front page: relatives of the victims of the 'Moors Murderers' condemn Granada Television for merely filming an episode of Coronation Street on Saddleworth Moor.
On the top half of The Sun's front page: 'Free today! Carry On Screaming DVD'. Which is especially appalling when you consider that Brady and Hindley recorded one of their victims as they abused her.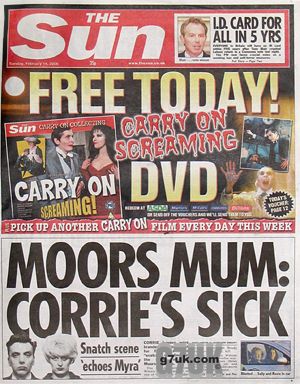 Presumably it is OK for Rupert Murdoch to use the murders along with a comedy DVD to sell his rag of a 'newspaper'?
As far as the Coronation Street issue is concerned… I have sympathy with the relatives, but I don't think you can ban all filming at a certain location because of something that happened forty years ago. Any drama that is based in Manchester, and which needs a desolate location, is going to turn to the moors.
Actually I've always wondered if the 1959 film Hell Is A City gave Brady ideas in the first place. There is a scene in that where a woman who works in a bookmakers is abducted by the robbers, murdered in the car and her body thrown out on the moors.
Very few films were made in Manchester, so Hell Is A City would have been a big event. It had its premiere at the Apollo Theatre, Ardwick, in April 1960. Brady and Hindley began killing and burying the bodies on Saddleworth Moor just over three years later…