In recent years there has been a tremendous amount of building going on in Manchester. It's all around, all the time, and as I walk into the city centre for lunch with Peter several times each week we get to see the new buildings appear step-by-step.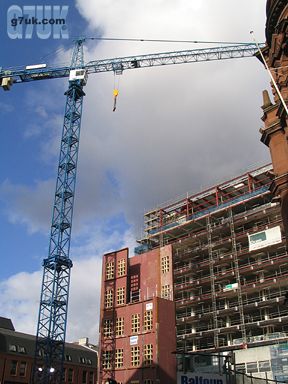 Yesterday we saw this curious structure in Spring Gardens, near the Post Office. We couldn't quite visualise how it may end up. Peter thought it looked like something from the backlot of a Hollywood studio.
Building techniques seem to change all the time too. The latest thing seems to be huge white polystyrene sheets that are sandwiched inside walls. Many buldings seem to grow from the inside out these days.