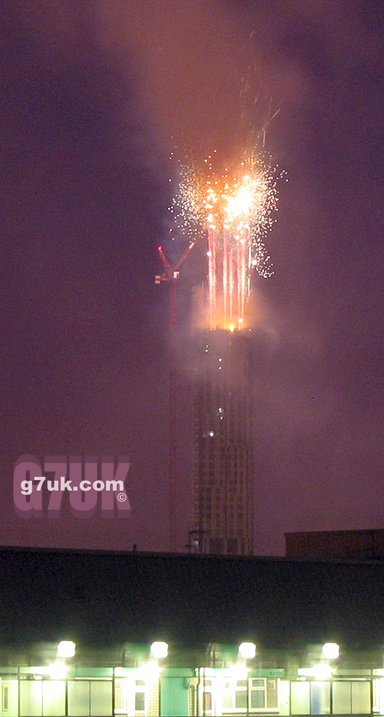 At 9.15pm tonight fireworks erupted from the top of Beetham Tower in Manchester, making it look like an over-sized roman candle firework. A topping out ceremony was taking place, marking the completion of the highest point.
The Tower stands 171m (561ft) and 47 storeys tall, making it the highest residential development in Europe. The first 23 floors will house a four-star Hilton hotel and apartments will fill the upper half.
Some people may wonder if Manchester really needs more apartments for the rich. When so many ordinary people in Britain are absolutely desperate for affordable housing and a large number of relatively well-paid workers are now excluded from ever owning a property of any kind due to high prices.
PFI
At the same time, Manchester City Council is busy trying to force various schemes onto residents of its council (public) housing, some of which is in the city centre. The aim being to pretty much wipe its hands of public housing.
Tenants are being denied a vote on whether housing should be transferred to a PFI (Private Finance Initiative) of the kind that is currently causing disaster in the National Health Service, an Arms Length Management scheme or whether it should remain in Council control.
In other parts of the country, residents have made it clear they want to remain in Council control. Which is something that Tony Blair and his New Labour cronies at Manchester City Council don't want.
Tony doesn't like it when people disagree with him and, if residents won't be sensible and vote the way he wants, the answer is simple… Don't let them vote at all and leave the decision to people who 'know better'. In other words, those feeble-minded Labour councillors who have compromised their left-wing principles so much in recent years…
So, the original proposals to give residents a vote on the matter in Manchester are quietly being forgotten about. Instead, local Labour councillors will decide 'what's best'.