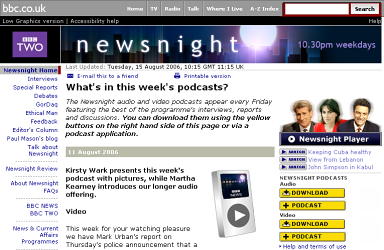 Newsnight has launched a weekly 25-minute video podcast. It's a round-up of the best stories from the nightly show.
This seems to be one of the first downloadable files that the BBC has offered in MP4 format, so it's iPod-compatible. Indeed, the podcast is already number one in the iTunes UK news chart and in the top ten on the worldwide news chart.
Despite the sceptics, I definitely think people are going to watch video on the move. On the train coming here I caught up with some TV I had recorded. It makes the four-hour journey much more bearable.
But the price of portable players needs to come down and the most successful ones in future will be those that play all the popular formats: Windows Media, XVid, DivX, Flash and MPEG as well as Quicktime and they will be based around removable Flash memory cards.
The new high-capacity cards that are coming along, which can deliver the data as fast as a hard drive, will revolutionise the portable player market. Hard-drives are too fragile, cables (for transferring) are annoying and no one wants to be limited by a fixed-capacity internal memory.