Don't believe the big fibs that are put around by commercial vested interests today. They make out that Manchester was some kind of gay wasteland before Canal Street took off in the early 1990's.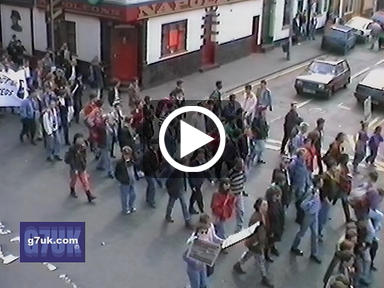 It wasn't and here is some proof: great community spirit in Spring 1991, when Manchester's gay community and supporters walked through the city centre in protest about inequality.
This sums up the period quite neatly: from the politics of the time, and the buzz that there was in Manchester in those days, to the fashions. There are some shots of the Bloom Street area too.
Shot on Video8, it's amazing how good this footage can look when the levels and colour are corrected and with a little filtering.

Editing this, it was a surprise to see the reactions along the way: fear, aggression, curiosity. Some people came out of their offices to look. This really was something unusual in those days.
It's a reminder of how different things were just fifteen years ago. How much has changed and how quickly. Some for the better, though that community feeling has gone and I miss it. And things could go back just as quickly (look at the hatred being stirred up by politicians in the USA these days).
The battle is far from over
Twenty years ago our enemies were the Police, Government, the church and hostile tabloid newspapers. Today we need to watch out for 'New Labour' Manchester City Council and the marketing people who are mainly interested in one highly-commercial type of gay lifestyle, packaging us up as a tourist attraction and profit-making opportunity.
Now we have enemies within: 'gay mafia' marketeers who stereotype us and twist charity events to suit their own ends. Big businesses that promote 'bareback' videos and alcohol with no regard for the impact and a high-spending, hairless, white, young, body-beautiful lifestyle that is unachievable for the majority.