Manchester's wealth was founded on the cotton industry and dependent on slave-grown cotton. But the city was also at the centre of the anti-slavery movement.
Some interesting historical info from the City Council website:
'For almost twenty years before the 1807 Act, the people of Manchester had been showing their opposition to slavery. Despite the majority of jobs in the city being dependent upon cotton produced by slave labour, in 1788 over ten thousand people, almost one in five of the population, signed a petition against slavery. A second petition in 1792 was signed by twenty thousand people.'
People in the north of America feared that Britain would abandon its anti slavery stance in favour of economic self-interest. In this satirical American cartoon, John Bull compares the 'woolly' hair on the head of a black slave, with cotton and decides that cotton is more useful to him than 'wool'. Source: The Library of Congress
Later, during the American Civil War, Manchester suffered severe unemployment when many people supported the Union under Abraham Lincoln and British industry was denied cotton due to the Union blockade of Confederate shipping.
This American cartoon compares the terrible conditions and 'slavery' of British factories in places such as Manchester, to a rose-tinted version of slavery at home. In Manchester in the mid-nineteenth century, average life expectancy was just 20 years. Source: The Library of Congress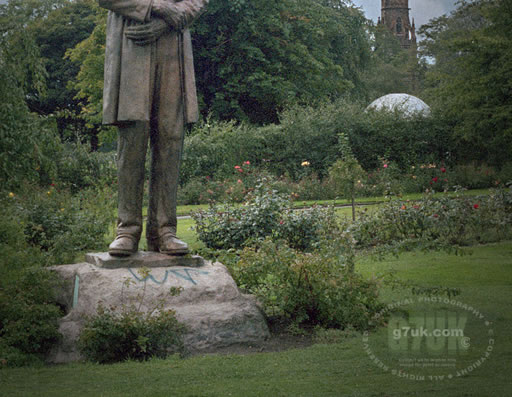 In 1919, America presented this statue of Lincoln to Manchester as a gift. According to this article [archive copy] the statue was originally destined for Parliament Square in London, but wasn't considered reverent enough so was given to Manchester instead.
You can see the unveiling of the statue in Platt Fields Park, Rusholme, in this silent film on the British Pathe website and the photo above shows it in the park, in 1984 or 1985. Soon after it was moved to its current location in the city centre on Brazennose Street.
Controversially, factions within the Town Hall changed Abraham Lincoln's words on the plinth, to fit the City Council's 1980s equal opportunities policy. So, instead of referring to the 'working men' of Manchester, the Lincoln quote says 'working people'.
LINKS
Revealing Histories: Remembering Slavery
BBC: Abolition of the Slave Trade 1807
The Manchester Museum faces up to its slave trade past
A cartoon depicting a slave who escapes and dies fighting 'for liberty' (1820 or 1821). Source: The Library of Congress