Workmen demolishing the spire of St. Peter's Church, St. Peter's Square, Manchester, 1907
Looking through the pictures in the Manchester Local Image Collection, I came across this wonderful photograph.
It's reminiscent of those vintage shots of men working on skyscrapers in New York.
If you're not too keen on heights it will probably make your toes curl, as the workmen stand posing for the camera on top of some rather wobbly looking planks of wood.
The year is 1907 and they are demolishing St. Peter's Church in St. Peter's Square. Here's another shot from 1907 and, below, my photograph from the same angle taken a few weeks ago.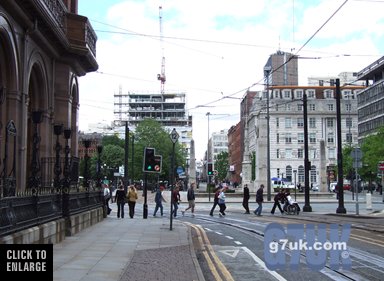 Here's one from the 5th floor of the Midland Hotel. In this photo, St. Peter's looks almost like some bug-eyed grasshopper. Not very attractive. However, the clock tower was a later addition. Until about 1840 the church had a more elegant spire.
I understand that the burial vaults are all still there under the Metrolink platform. Which is something to think about while you wait for your tram!