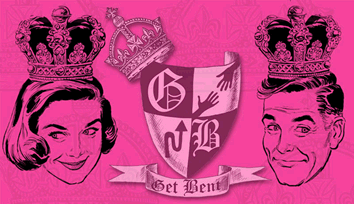 Preparations are well underway for Get Bent. An answer to the commercialism of Manchester's mainstream pride event.
A weekend of free events, food, music, film, art, discussion and fun! Standby for the full programme of events, coming in the next few days. Everyone is welcome (see below).
During and after Get Bent there will be video coverage here on g7uk and on the Get Bent YouTube channel.
Website | MySpace | YouTube | Facebook
Happening: Friday 24 August – Sunday 2 September 2007
Grab a flyer or graphic for your website here.

What's the thinking behind Get Bent?
* Get Bent is a safe space for all genders and sexualities and seeks to engage with and foster the possibility of creating queer-positive spaces.

* Get Bent challenges the notion that you have to act or dress a certain way to be accepted.

* Get Bent follows a DiY ethic, creating wide variety of programming by supporting diverse people to create diverse events.

* Get Bent provides an alternative to commercial gay spaces by creating a queer autonomous space that is sex-positive without being sex-centered, doesn't depend on alcohol to have a good time, and is unafraid to put the politics back into pride.

* Get Bent fosters a sense of community by being inclusive: all ages, all incomes, all abilities, all ethnicities and cultural backgrounds, regardless of HIV status, those who are comfortable in commercial gay spaces and those who aren't.

* Everyone is welcome to participate in this celebration of queerness!