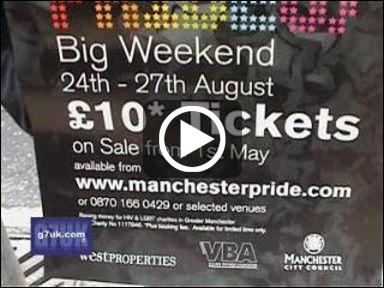 The 2007 poster for Manchester Pride doesn't mention the words 'gay, lesbian, transgender, bi'. It only has the abbreviation 'LGBT' in tiny print.
All a far cry from the original aims of Gay Pride — which were to raise awareness, celebrate and be 'out and proud'.
The organisers told us that there wasn't space on the poster for the words. Also that Manchester Pride is aimed at the 'LGBT community' who will all know what the abbreviation stands for.
We thought this was all a bit crap and another example of the way our community and Pride event have been taken over by big business, marketeers and the City Council. So we went down to Canal Street to find out what people thought and whether they do know what 'LGBT' stands for.