Well done to Manchester Libraries for the program of events they're running for LGBT (Lesbian, Gay, Bisexual, Transgender) History Month. My guess is they haven't had much money to spend on this and I hope next year they will be given more. But they've put on some interesting events.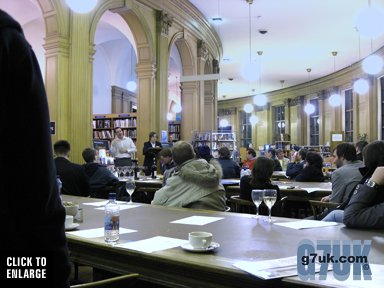 Last night there was a commemoration of the 20th anniversary of Manchester's opposition to Section 28. This was the law that was was introduced by the Thatcher government, to prevent local councils from 'promoting' homosexuality.
There was never a single prosecution under Section 28, but it had a serious effect. Many local authority employees (teachers for example) were unsure what they could do without falling foul of this vague law. There was a huge protest march in Manchester.
Just as the Labour Party has changed beyond all recognition in the past two decades, so too has Labour-controlled Manchester City Council. Whereas twenty years ago there was the sense that the needs of the population and sections of it such as the LGBT community were given priority, nowadays it is the desires of big business above all.

Later when I talked with some members of the audience, who seemed to be of the same generation as me, several said they felt that the major difference between gay Manchester then and now is that everything is 'too corporate' these days.
Needless to say this was a 'dangerous' topic that none of the speakers touched on. No questions were allowed from the audience, although we were told we could approach the speakers afterwards if there was something we wanted to ask.
In little more than ten years, some of these familar names seemed to go from being left-wing 'activists', who planned the Section 28 protest march in secret, to modern-day spivs who were willing to sell our community and Pride event to the highest bidder and exclude anyone who couldn't pay to take part.
They helped set up Manchester's LGBT Centre in the 1980's but I sense that now they probably would stand by, see it demolished and say nothing, if that was what some property developer wanted and if there wasn't too much fuss from the community.
Quite a journey… And it's hard to understand how someone goes from one extreme to another like that. But some are politicians (how many Labour politicans have jettisoned their principles in recent years?) and presumably others have a pension to think about.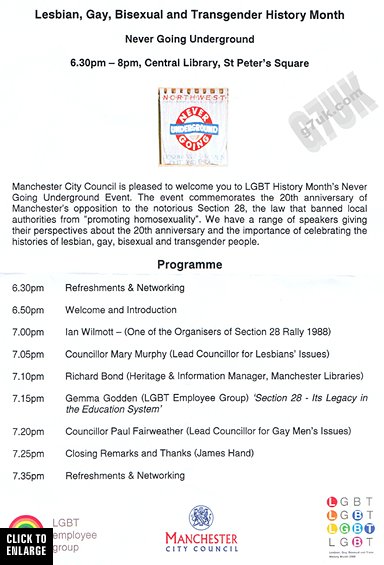 Ian Wilmott was the co-ordinator of Mardi Gras 1999 — the most disasterous LGBT event ever held in Manchester. That was the year the public was forced to pay hundreds of thousands of pounds to take part in the (previously free to enter) Mardi Gras and, in the end, absolutely nothing was left to go to good causes.
Back in 1999 there were still some concessions for people who were unemployed or on a low income. At the time I qualified for a reduced price ticket for Mardi Gras. I'll never forget how snotty they were when I trooped up to their office in the town hall to ask for one. Didn't I realise it meant less money for charity they asked? Considering I had given up a full week of my time to help back in 1991, I was fuming.
But not as much as I was a few months later when it emerged they had squandered hundreds of thousands of pounds (including a few precious pounds from me). Yes, absolutely zero was raised for good causes in 1999 from an event that had started out in 1990 with the sole purpose of making money for charity.
Here is Mr Wilmot being given an easy ride on the subject by BBC North-West Tonight. Nine years later I'd still like to know where all that money went.
After three years of being excluded from running the event, in 2003, the city council gang managed to grab control and turn it into a pay event again. It was effectively run by the tourist board (Marketing Manchester). But there are no reduced price Manchester Pride tickets now. If you can't pay you can just f**k off. In recent years the charity income has dwindled to some of the lowest figures ever.
Naturally, My Wilmott wasn't introduced in this light. He was presented as one of the heroic organisers of the 1988 Section 28 Rally.
So, the overall theme of the talk at the library was progress and continuity. 'You've never had it so good but there are still some challenges ahead'. Such as religious fundamentalism. And who can deny that is true?
A very brief extract from Paul Fairweather's segment.
But, as some of the people who are directly responsible for removing any political aspect and inclusivity from our 'Pride' event, I wanted to ask them how they imagine we are well placed to face those challenges. Presumably we can rely on Selfridges, Barclays Bank and West Properties to help if things get tough?
During the presentation, absolutely no sense was given of how radicial, left-wing and anti-government Manchester City Council was in the 1980's. Perhaps because that could lead to awkward comparisons to how things are now…
Hearing that the Section 28 Rally had to be planned in secret by council workers, young people could even get the impression that the City Council was somehow anti-gay in those days. Whereas I assume the reason it had to be planned in secret was because Section 28 itself prevented councils from 'promoting homosexuality' and a Rally could be said to be doing that?
I've come to realise that our LGBT history is being subtely rewritten, manipulated and distorted. Some things are left out (especially if they are a bit embarrassing) so the story fits the current agenda.
Paul Fairweather talked about history and how the cafe at Lewis's department store was a popular meeting place for gay men in Manchester. What he didn't mention was that the public toilets in Lewis's were a well-known place for 'hooking up'. Later when I discussed this with several older gay men who were in the audience, they agreed that the 'notorious cottage' was more likely the attraction at Lewis's, rather than the tea and cakes.
Someone suggested that maybe Paul Fairweather was hinting at this. But, if so, how ironic to self-censor in this way. At an event that commemorated the fight against a law that tried to gag us.
An uncomfortable piece of our history perhaps. But the reality shouldn't be sanitised and airbrushed. The recent talk by Ray Gosling was a lot more honest and in tune with the Manchester I remember.
There's a sense that only one lifestyle is acceptable and 'promoted' now: go to the gay village, go shopping and consume, go to the gym, go on holiday to a gay resort, have a tan, have a civil partnership.
Having uncovered the downright lies that have been told about Manchester Pride and its predecessors over the years (for example the leaflet published by the Mardi Gras organisers in late 1999 claimed that 600,000 people had watched the Saturday parade that year — a ludicrous figure), I found myself wondering whether there really were 20,000 people on the Section 28 Rally in 1988 (I wasn't there).
However, the photographs and the first-hand recollections I've heard from people suggest yes there was that number. But this shows how potentially damaging the false marketing hype that surrounds events these days can be. People don't know what to believe.
Nor is there much documentary evidence from the 1980's and 1990's. For instance I may be the only person who has photographs of the 1990 August Bank Holiday jumble sale on Canal Street and photos and video of the event the following year. Much before that, cameras simply weren't welcome at gay venues and events and few people thought to document, unlike the current YouTube generation!
This lack of documentary evidence is convenient for people who want to rewrite history. A 1980's community that was inclusive, safe and fun with over a dozen bars and clubs, lots of private parties and its own unique music and fashions is falsely portrayed as a furtive and seedy wasteland with 'just one or two bars' by today's devious marketeers.
Events in 1990 and 1991 that raised big money for the needy in our community were 'just a jumble sale and do we REALLY want to go back to that?'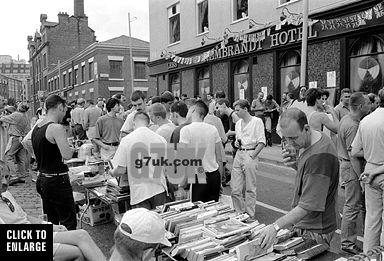 Is it really the case, as Paul Fairweather suggested in his segment, that the Section 28 Rally seemed to be the beginning of a new era in Manchester? This is the opposite to my memory of the time.
By 1990 there was a strong sense that gay Manchester wasn't as good as it had been. In fact, we began going over to Huddersfield for nights out and also for the annual Pink Picnic which, by then, had been running for several years and raised money for HIV causes.
Imagine… A small place like Huddersfield had this great event. Manchester had nothing like it. I remember even more people travelling from Manchester for the Pink Picnic in 1991, as word got around.
One of the most interesting speakers was Gemma Godden who talked about her (more recent) experiences at school and the effect that Section 28 had there.
Richard Bond from the library mentioned that Manchester Libraries only began building a LGBT archive 'relatively recently'. I was quite surprised to hear that and, though I admire some of the other things the library has done (the Local Image Collection for example) this seems to be another example of the low priority given to non-commercial LGBT matters by the city council over the past 10-15 years. Quite shocking when you consider what a large LGBT population the city has and how much of the council tax we contribute.
In an ironic twist, the audience included a rather bedraggled and homeless LGBT person. After an hour of talk from councillors and workers about how far we'd come as a community and the challenges that still lay ahead for LGBT people, everyone left and she was kicked out onto the street. Not a single person at the event talked to her, except for my friend, who then spent a couple of hours trying to help.