Manchester Pride has been busy removing over-inflated parade crowd and attendance figures, after a telling off from Trading Standards in June. The organisers admitted they could not substantiate their figures.
As reported here on g7uk.com, crowd figures of 200,000 or 250,000 watching the parade are physically impossible on such a short route on Manchester's narrow city streets.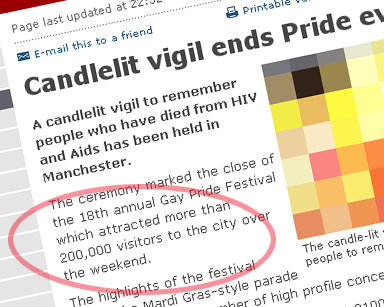 In the past, the BBC, has reported the parade crowd as being 'tens of thousands'. Ironically this year the BBC claims that Pride attracted 200,000 visitors to the city over the weekend.
With only something in the region of 35,000-44,000 tickets sold and tens of thousands watching the parade (many of them the same ticket-buyers), the figure the BBC quotes is untrue.
This sort of hype only makes it more difficult for Manchester's LGBT community to have a proper debate about the future of Pride in the city.