Talking about slow cookers, I've been looking at some modern ones on the Argos website. The odd thing is they seem to use more electricity than the Tower models from quarter of a century ago.
In the mid-1980's Tower had three models and they had the following power ratings: Auto: 100w-140w, Carefree: 70w-90w, Compact: 55w (I have this one). The marketing of these centred around the fact that they used about the same amount of energy as a light bulb (100 watts).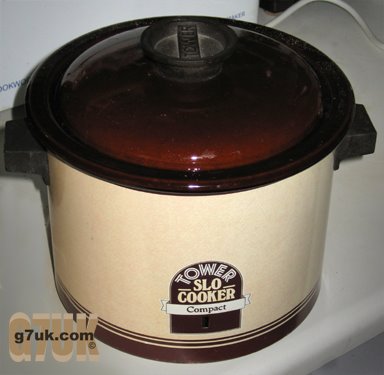 Still going strong after nearly 25 years (and doing a chicken stew) — my Tower Compact slow cooker which was bought from Woolworths.
Compare those vintage models to the modern day Morphy Richards slow cooker, which is rated at 330 watts. Or the Russell Hobbs at 160 watts. The stainless steel Cookworks is rated at 160w-190w (and a real bargain at just £9.98 currently).
Do these slow cookers consume energy the whole time? Or does a thermostat turn them on and off occasionally to maintain the temperature? If so, the wattage given is a maximum and doesn't tell the whole story. My 25-year-old 55 watt compact model seems to stay on permanently. You might expect slow cookers to be even more energy efficient these days but it looks as if that may not be the case.
I wonder if it's because most modern-day slow cookers have a glass lid rather than the ceramic lids that are to be found on the old Tower models? Style over function and efficiency? By the way, if you like stews and casseroles and haven't tried this method of cooking, you are missing a treat. Cheaper cuts of meat turn out succulent and, whichever slow cooker you choose, it will use much less electricity than a standard oven, which may be rated at something like 2,500 watts.
UPDATE (March 2018): INSTRUCTION BOOK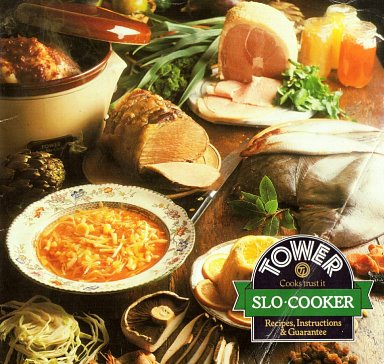 Thanks to Anthea we have a perfect copy of the instruction book for you to download. This replaces my own water-damaged version. The book covers the Auto, Carefree and Compact models which were made in the 1980s. It has 52 pages with more than 100 recipes.
It's provided here so that people who may have lost or mislaid their own book or who have bought a secondhand item without instructions can get the best out of these classic Tower slo-cookers.
You can download it here (13Mb PDF): Instruction book for 1980s Tower Auto, Carefree and Compact slow cookers