Don't miss the 2009 Manchester World Naked Bike Ride on the streets of the city centre just after 6pm tonight, Friday 12th June.
It's all in a good cause. The aim is to raise awareness about oil dependency and to celebrate the bicycle.
Here are some good spots where you can wait to cheer on the cheeky riders. And of course part of the fun is seeing the faces of the people who aren't expecting it!
* They will leave Whitworth Park in Rusholme at 6pm and cycle along Oxford Road, past the BBC, turning right onto Whitworth Street at the Palace Theatre.
* Emerging from Oldham Street, they will peddle across the pedestrian and tram area of Piccadilly Gardens and down Market Street.
* From the Cathedral they will wind through St. Ann's Square, onto Deansgate, up John Dalton Street and then circle the town hall and Albert Square.
* From Portland Street they will go down Chorlton Street (next to the bus station) and along Canal Street, crossing Sackville Street, to Princess Street.
* Past the BBC on Oxford Road again.
Sadly I can't be there this year. But here is the video I made in 2008: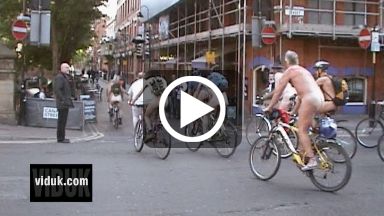 Watch: Flash video | Windows Media (good for older PCs).