Imagine the scene… You're the Chair of Manchester Pride. It's one of your busiest days of the year — the Saturday Pride parade — and the entrants are getting ready to move off. Usually you eat healthy stuff but you think, just this once, you'll sneak into the nearby takeaway and have nasty pie and chips.
Who is the last person you want to bump into, holding a camera, on your way out? The author of g7uk.com perhaps?
That's what happened as I walked down Liverpool Road today. The two of us came face-to-face for only the second time ever. The first occasion was at the balloon protest a year ago.
After reassuring me that this wasn't his normal diet, Mr Stokes offered me a chip from what was one of the smallest portions I'd seen since I walked past the muscle boys in their Speedos a little bit earlier…
Then he posed for this photo.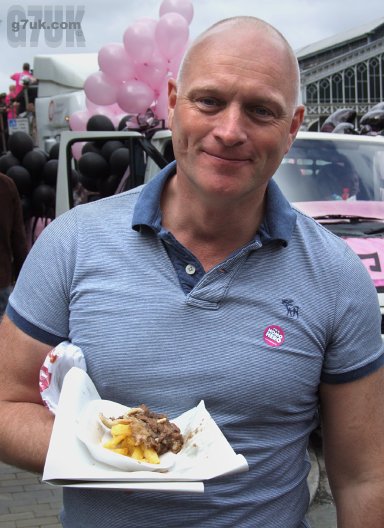 So, whatever differences we may have on the subject of Manchester Pride, don't let it be said that Andrew Stokes isn't a good sport.
Perhaps we've discovered the secret diet behind that cycle ride he did across Africa a few years ago?