For the last three years we have filmed at the gates on the night of the Manchester Pride HIV/AIDS Candlelit Vigil. Entry to the Vigil is supposed to be free and the community was promised it would always remain so when tickets and fences were introduced (first for for Mardi Gras 1999 and then again from 2003 onwards).
However, in recent years we have gathered hard evidence on camera that sometimes people who only want to go to the Vigil are told they must buy an expensive Pride ticket or are made to queue for a prolonged period.
This year the security people tried to prevent us filming, even though we were on a public street. They seemed to think they had the power to refuse or deny us 'permission' to film and that if they were in shot their 'privacy' was being invaded. Two of them pushed the camera.
Then a woman came over and asked if I'd filmed her children! Can you believe it? I hadn't even seen them standing in the queue.
Needless to say we are fully entitled to film and report this and many people would say it is in the public interest that we do so. There is no privacy in a public place and, as far as I am aware, no law against including children in photos or a video either. Though for the sake of a quiet life I avoid the latter at every opportunity.
Anyway our past efforts have had a result and, this year for the first time in recent years, the Manchester Pride website does mention that no ticket is needed if you want to go to just the Vigil.
OUR FINDINGS THIS YEAR
Last year, shortly before the Vigil, we were told by the ticket office on Minshull Street that we had to buy a ticket if we wanted to go to it. This was recorded on video and with audio.
This year the Vigil was due to start at 9pm. We arrived at the gate at the junction of Sackville Street and Whitworth Street at 8pm to find that some people without tickets had been told to turn up at 7pm and were still queuing more than an hour later.
Above: Steph tells us what they said.
The security guards were unable to say why people were being made to queue for so long, but thought it might be due to the Park being muddy and slippery due to the torrential rain earlier. But of course Pride could still have allowed those people to go into the fenced off gay village area and wait there instead of having to queue for 90 minutes on a rain-swept street corner.
Although some years everyone who wants to attend seems to get in OK, there is a limit to the number of people who can fit into Sackville Park. Naturally, people are anxious that they may not get in. Some are there to remember friends or relatives who have died.
It just feels that, if you don't buy a ticket, you're very much a second class citizen who must be 'punished' and inconvenienced as much as possible.
We asked the guards if the Festival Director or anyone else was available to tell us why people had been made to queue for more than an hour, but were told no one was.
We then went to the ticket office on Minshull Street where, glad to say, we were given the correct information this year: no ticket needed to go to the Vigil.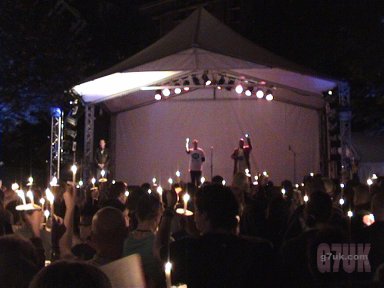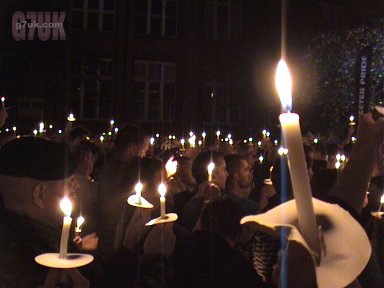 The origins of Manchester Pride go back to August 1990 and events that were started with the sole purpose of raising funds for people who were affected by HIV and Aids and also for the ward at Monsall hospital. Some people can't afford to buy a ticket or don't want one because they feel Pride offers nothing else for them.
It's awful that they have been treated in this way in recent years. And with 88% of all the Pride income spent on costs in 2007 (including from collection buckets I believe) there is no longer a valid argument for saying that buying a ticket is even an effective way to help good causes.
I stronger encourage people to support the charities that do good work in this field. But send your money direct to one that doesn't have this obscene level of costs.
WHAT WAS YOUR EXPERIENCE?
Please let us know if you were given incorrect information about tickets or made to queue (send a message here). We won't publish anything on the website that might identify you, unless you give us permission.
AS FOR THE VIGIL ITSELF
For me it veers from being moving one minute to a bit cheesey the next. I thought about a friend who, in the past year, told me that he is living with HIV. I'm one of only two or three people he told and I was touched that he chose me as one of them.
The compere this year was Jonathan Mayor, a comedian of colour who appeared at Get Bent in 2007, however we noticed that the choir that opened proceedings seemed to be entirely white.
Labour Councillor Paul Fairweather came out as HIV+ during the Vigil. A brave thing for any person to do, and especially a politican. Though I would have preferred if he had not preceeded it with yet another a rant against the (admittedly vile) BNP. I feel this is a night when party politics should be left at home and, with a general election looming within the next ten months, it smacked of opportunism.
Presumably there are (misguided) people out there who are positive and a BNP voter? The Vigil should be for everyone. It reminds me of the 1980's when anyone who was a Conservative voter was treated with the same total distain by the extreme lefties who dominated our community and city council. They were incredulous that anyone could be LGBT and a Tory or a fan of Margaret Thatcher. I don't support Labour or the Conservatives and never have but my partner in the 1980's was a Tory.
Indeed Councillor Fairweather himself was one of those left-wingers at the town hall. But now an advocate for, and defender of, our market-driven and exclusionary Pride event! How times change… Stay tuned for our exclusive video footage of the recent LGBT Labour discussion at Manchester Pride, with lots of good debate from all directions.
Craig, one of a number of people who speak about being HIV+ for George House Trust, also made an impact and there was a beautiful piece played on a violin.
Andrews Stokes, Chair of Manchester Pride gave a speech, which mentioned some of the protest themes and slogans and Jonathan Mayor also mentioned that 'Pride is a protest'. We wondered whether that came from Mayor himself or was written by the organisers. An attempt to include the protestors or a cynical hijack of their message? Time will tell and I'll be writiing much more about this in coming days. This has been a most-interesting weekend…
We weren't sure who the singer at the end was. The feeling was that it was way too 'poppy' and there is more than enough of that during the rest of Manchester Pride.
INDIVIDUALS AND 'SMALL MEDIA' GIVE YOU THE STORIES YOU WOULDN'T OTHERWISE HEAR ABOUT
We need some public information films on TV that explain the reality to people regarding photography and filming in a public place. The rights that they do and don't have. We are heading towards a situation where only the BBC and other media giants are 'permitted' to film in a public place, with ordinary members of the public and security people driving photographers and independent film-makers off the streets. And, needless to say, the BBC rarely covers issues such as this, preferring to focus on the 'you gays have never had it so good' propaganda along with the rest of 'big media'.
The great irony is that, 25 years ago, it would have been lesbian, gay, bi or trans people who would have been most worried about being photographed at any event in this area of the city. Now it's parents!