Updated: 24 October 2009 (video added)
I see this old building has disappeared from Tariff Street (the photos are from 2004).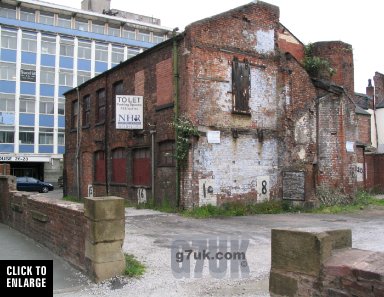 It was in a poor state but there was something about it that I liked. I used to walk past and wonder what kind of business it was home to 100 years ago, what was that hexagonal tower part (at the top right of the picture) all about and what it might look like if it was fixed up? I loved the sash windows and the red colours.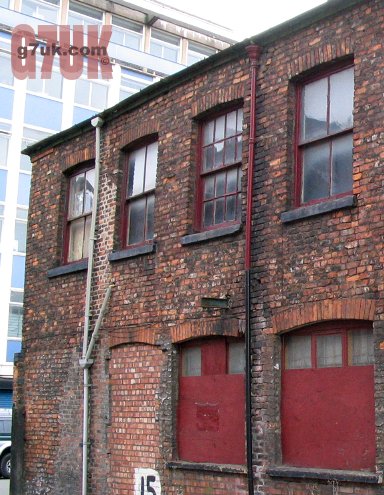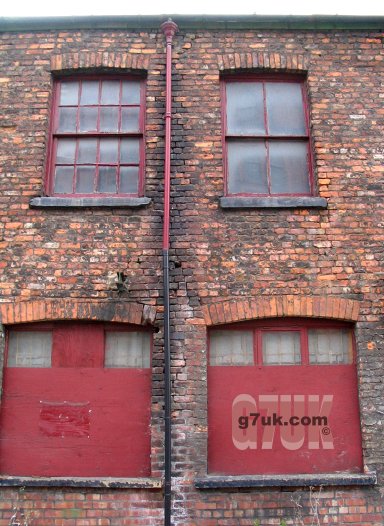 But, all that 'wasted' space around it. Imagine how many rabbit-hutch-sized apartments could fit in there if you were to build right up to the pavement and much taller.
So, sure enough, that seems to be what's happening. The old building has gone and a structure is going up: the familiar concrete 'shelves'.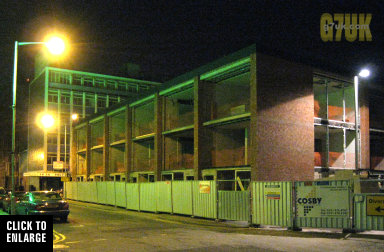 I find it funny that these 'luxury apartments' seem to be constructed in exactly the same way as the 1960's council tower blocks that so many people despise. In truth, some council towers aren't bad at all. They are secure, cheap to heat and have a good community spirit. They also tend to have larger rooms than these modern-day private versions which, due to their pokey interiors, are destined to become the 'undes-res' slums of the 2030's I reckon, because no one will want them.
It's incredible that developers are still building apartments in Manchester city centre. There is massive oversupply already and the crazy loans and mortgages that fuelled the boom are never coming back. In the future there will be far fewer people looking to buy and they will be a whole lot more picky.
So the only hope now is to somehow attract more people to move to Manchester city centre and buy or rent. That's difficult when the young are most likely to be hit by the recession and almost all properties are small apartments. There is a severe lack of any that might appeal to a family.
Another issue is that the city centre isn't really a very nice place to live due to the 'zoo-like' atmosphere at night. I suggest it's really only the young party crowd who are part of it all who are willing to tolerate that.
Also in the market for property in the past was the buy-to-let investor (or 'parasite'). Some owners live a distance away or even abroad and have no real interest in Manchester city centre: the environment, community or quality of life. Their only interest being rental income figures on a bank statement each month. Again, the main renters are 'young professionals' and party people who can't afford to buy or don't want to. A growing number are unemployed or can't afford the rents now that the flow of easy credit has been turned off.
If it seems as if I am exaggerating the impact of all these apartments then just consider the figures. The flat market in Manchester grew from 1,000 in 1997 to 16,200 at the end of 2007. At that time, 3,300 units were under construction in the city centre and a further 11,300 were in the planning pipeline, again for the city centre. Bringing the total stock (if they were built) to 30,800. Source: PropertyWeek.com
I had a wander around Ancoats last night. It's a World Heritage site due to the historic mills. However, it looks as if only about one third of those huge mills have actually become apartments so far. The remaining two-thirds are a mere shell with the windows replaced by wooden panels and nothing else done to them or have been renovated with a massive empty 'void' inside.
A number of brand-new blocks of apartments have gone up. Some are occupied but others seem empty.
The sensible thing would have been to complete the renovation of the historic buildings and sell those apartments, as that would have safeguarded the historic buildings in the area. Then they could have added new structures if there was the demand. But I suspect there is more profit to be made by throwing up something completely new. For instance, I understand that builders must pay VAT on a building that is renovated but not on one that is brand new.
Several new blocks are perilously close to the Sankey's Soap club in Beehive Mill on Jersey Street. Hopefully the owners of new apartments won't mind the sound of 'banging tunes', shrieking clubbers and taxis coming and going and honking their horns. This could be in the early hours of Friday morning when you need to get up for work and there are sometimes 'allnighter parties' until 7am at the weekend. Not to mention regular practice sessions by bands during the day.
To be fair, the club has been there since 1994 — long before the apartment blocks were built and before anyone lived nearby. It helped preserve that building when no one else was interested. But it illustrates the lack of joined up thinking by the planners and the limited market for apartments in this vicinity.
If you're wondering what it would be like, here's the scene at 2am on the morning of Friday 25 September 2009. This is just one hundred yards or less from three different 'luxury' blocks in opposite directions. What fun. I wouldn't want to live there. But maybe I'm just a miserable old git. ;)
Here's the same starting point on Google Street View.
The truth is, at the height of the property hysteria, people would snap up almost anything and now they won't.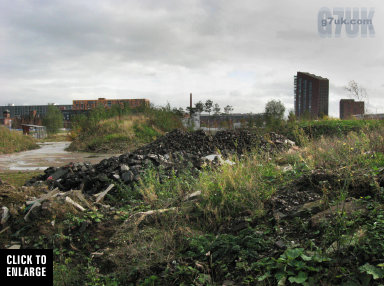 On the other side of the canal is 'New Islington' which is currently a wasteland with only a few of the buildings completed to date. There is a row of hideous new houses that look like something out of Noddy In Toyland. Then, surrounding the gothic Ancoats Hospital building (which opened in 1828) there are billboards that show the full horror of what is proposed for the area. Or should I say 'was' proposed? As it may be destined to remain in the current state for many years to come.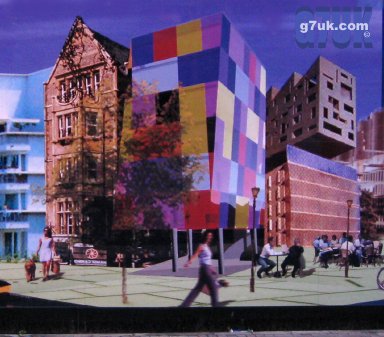 I was with a friend when we came across these images for the first time about a year ago and we were rooted to the spot for a couple of minutes as, openmouthed, we took in the full nightmarish quality of the designs. I wasn't sure whether to be appalled or laugh at the distorted buildings which look like something out of a German Expressionist film of a century ago.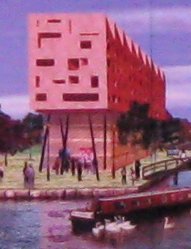 An architect called Will Alsop is behind some of these 'designs'. He has been featured on the website Eyesore of the Month due to a hilarious $30 million monstrosity that he inflicted on Ontario.
'Apartments designed for living' is the caption below an artist's impression of one block which looks like three shoe boxes stacked unevenly with text printed all over them in different sizes. But this is no mere warped fantasy never destined to be built; this monstrosity has been completed. But needless to say the historic Ancoats Hospital is still derelict (you can see its windows behind the poster in the image below)…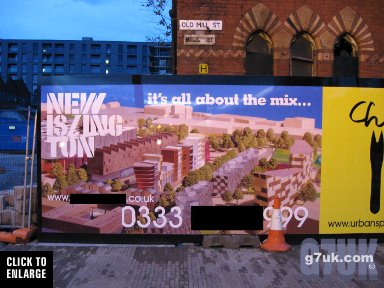 'New Islington – the best place to eat and drink in Manchester' states another poster. But eat and drink what? Though I suppose you could have a glass of canal water with a dash of rat urine or trek across to Oldham Street for a kebab and can of Fanta.
Already it feels absurd. Like something from a crazy era gone by. A time when people who had 'more money than sense' would snap up absolutely any property.
The awful thing is that many people were moved out of their council homes (some had bought them) to clear the area ready for this mess. So what happens now?
LINKS
* "There is a worryingly widespread and entrenched belief among buy-to-let investors that if they decide to withdraw from a purchase for which they have exchanged contracts, that only their deposit is at risk," says Mr Raj.
"The legal position is quite clear. They are legally obliged to complete on the transaction.
Financial shadow cast by city apartments (BBC)
* Legal risk to property investors (BBC)