I have an arab friend from Saudi Arabia. Normally I message him using an email address that is attached to one of my domain names. But this weekend I am moving some domains including this one to different web hosting. So, via my domain registrar, I forwarded this particular email address to a GMAIL account temporarily.
I've had the GMAIL account for a few years, rarely use it (because I don't trust Google on privacy), and have never had any problem with it.
Tonight, within an hour of an email from my friend arriving in the GMAIL account (forwarded via my domain email address) the GMAIL account had been 'temporarily disabled' for some supposed breach of the terms and conditions.
'For immediate assistance' I was invited to enter my mobile phone number, a code would be sent by text message and I would be able to unlock the account.
Am I being paranoid? This seems like more than a coincidence to me. An email arrives from a Saudi Arabian with a 'Muslim sounding' name and my account is immediately suspended until 'Google' gets proof of my identity. I wonder where else this information is going?
You can 'contact support' but how many days will that take? Of course most people will just give Google their number.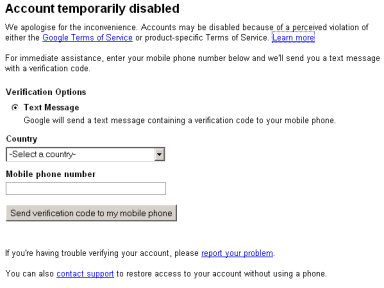 Something sinister? Or just a blackmail tactic by Google: they hold your email to ransom until they're given an extra bit of juicy personal data?
Interestingly the mobile number doesn't show up as a piece of stored data in the Google dashboard. Yet I find it hard to believe that Google doesn't hang onto that number somewhere. If they don't, and there is no trail (for police and security services to follow for example), then that seriously diminishes the value of the entire 'verification' exercise.
I don't like it and I don't trust this company.
Just this week and without prior warning Google deleted at least six music blogs on its Blogger and Blogspot service wiping out years of archives.
Be warned: if you rely on free services they can be suspended, and your data can be deleted without warning or held to ransom for some 'perceived' wrong doing and until you do whatever the company says. Bad enough if it's a personal email account but imagine if you rely on free Google services for part of your business. And if you've ever tried to contact Google then you'll know how difficult that can be.
Guilty until proven innocent and you're in a far weaker position than if you were paying for the service.
I'll stick to paying a few Dollars each month for paid webhosting where, in the event of any problems, I get a response from technical support within ten minutes.
Update (1 March 2010): this man had his YouTube account containing 900 videos deleted. He has no backup. Welcome to 'cloud computing' and being at the mercy of huge unaccountable companies which aren't based in the UK. He asks some important questions.
Update (5 August 2011): Google did the same thing to blogger Carlos in DC on 13 December 2010 when he tried to forward a video about Wikileaks via his GMAIL account.