Manchester Liberal Democrats have asked the District Auditor to investigate the loss of £421,000 of City Council funds due to a basic accounting error.
The sum was part of funding that went to Marketing Manchester (the tourist board).
Manchester City Council was supposed to pay 35% of Marketing Manchester's costs and another nine Councils would be responsible for the other 65% between them. But, since 2004 and due to a mistake, Manchester has paid around 56% and the other Councils just 44%.
At the last meeting of the Association of Greater Manchester Authorities (AGMA) Deputy Council Leader Jim Battle (who attended as Manchester's representative) 'kindly agreed to waive the overpayment'. How generous!
Here are extracts from the minutes of the meetings: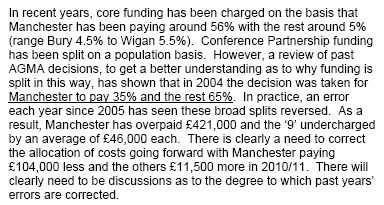 The Manchester Green Party has backed calls for the District Auditor to be brought in.
Marketing Manchester doesn't seem to have benefited from the mistake or been responsible for it. But regular readers of my site will be only too familiar with this organisation as the one that has ramped up Manchester Pride into the high cost tourist event that it is today.
One individual is now Chief Executive of Marketing Manchester, Chair of Manchester Pride and Chair of the (gay) Village Business Association. An unhealthy concentration of power in my opinion. What is good for tourism and businesses isn't necessarily in the best interests of our Pride celebration and community.
Update (July 2010):
In an article published in May 2010, The Mule newspaper has information about other payments made by Manchester City Council to Marketing Manchester.