It would be quite wrong of me to slate Manchester Pride for all kinds of things but then give 'alternative' events some kind of immunity from any honest criticism. I'll write more about this issue in the future, but for the moment I'll give you my 'brickbats and bouquets' account of the first day of Queeruption.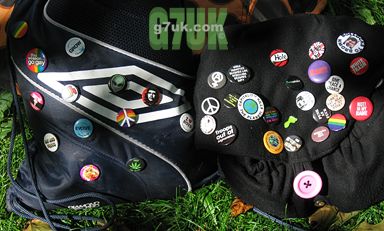 Most of the promotion for Queeruption seems to have been on Facebook and, in the week before, some of us felt that it was being overhyped by a handful of 'cheerleaders' and it seemed quite disorganised. Among other things, some events had more than one Facebook page.
The first day was Sunday and on Saturday there was still confusion about the time and place to meet if you were planning to stay at the 'base camp'. The idea being that everyone would camp in tents somewhere in the city centre. However a post on the Facebook event page on Saturday at 18:40 stated noon on Sunday in the Peace Garden next to the town hall and apparently people received emails stating the same. Many of us had registered to receive updates by email or text.
I got there just before noon, to cover the event, and found one person was waiting. Soon we were joined by three others. It was sunny and everyone was friendly. However we waited and waited… One hour, two hours…
One person had travelled from elsewhere in Europe especially for this and was anxious. I was the only person there from Manchester and felt embarrassed.
Finally, at 14.10 — two hours and ten minutes after the publicised time — someone who had connections with Queeruption arrived with banner-making materials. I'd called him earlier while waiting and had left a voice mail message but with no response. The 'European' collared him and asked if Queeruption was 'a joke' and actually not happening at all.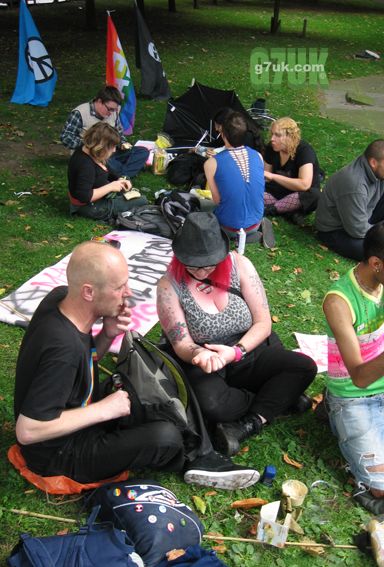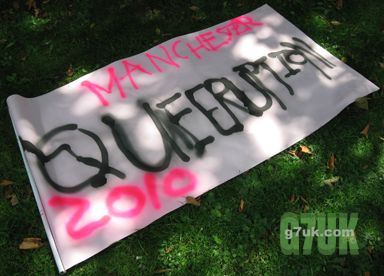 We went into the grassed area nearby. More people turned up, some with food to share and those who knew each other already began making banners. Soon promo photos of this had been uploaded onto Facebook. I guess some updates are more urgent than others…
However in the end it was fun and I began to feel this was what a grassroots event should be about. About 18 people were there in all, I made new friends and it was helped in part by the glorious sunny weather.
Now I'm told there was something else happening at a gallery at the same time and suggesting we should have received a message about it. But so far I don't know anyone who did receive one.
More later…