Yesterday late afternoon we left the Peace Garden in St. Peter's Square and walked along to Rusholme for the Queeruption Opening Party.
Apparently the original plan was to host it in an old building, but that fell through and the replacement was Saki Bar which is on the corner of Wilmslow Road and Moss Lane East. It's a grubby and run-down venue in a building that, not many years ago, was a branch of Barclays Bank. Back in February it was reported that it had lost its licence because it showed a 'blatant lack of concern for its neighbours'.
I would like to write something positive about the Opening Party but it's going to be difficult.
One person who had travelled from elsewhere in Europe for Queeruption was livid to discover the event was in a commercial venue: 'this is not what I came here for,' she told me and other people expressed similar concerns.
When so much of the gay scene centres around alcohol, can any night in a club buying expensive drinks ever really be considered 'alternative' or inclusive, whatever entertainment is put on? When asked, on the Queeruption Facebook page, about people who might have little or no disposable income, the response from one of the organisers was: 'who goes for a night out without any money?'. So some might say a former bank was an appropriate venue.
At Get Bent! in 2007 one or two events were held in a bar and club but most were in alcohol-free spaces — a good balance.
The bar is located at the beginning of the 'curry mile' and the entrance is shared and overlooked by a cafe where Asian men hang out. If you happen to be gay and Asian this may not be somewhere you feel comfortable.
Going in you were hassled for a donation and had your hand stamped as if you were cattle. Entertainment was up two flights of stairs, so tough luck if you couldn't manage to climb those. The sound system (provided by Queeruption) was poor. I could hardly make out what was said much of the time I was up there. But I didn't hang around for long as there were only a couple of chairs, so nowhere to sit as you watched.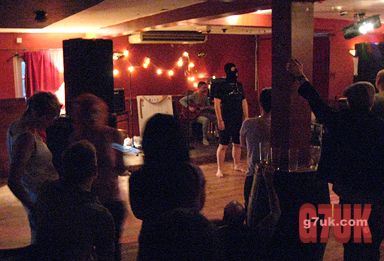 One performer made me laugh when he claimed a well-known but not exactly well-loved local politician had given him a sexually transmitted disease. He certainly had his act off pat. However all deserved a much better location.
Many of the usual-suspect hipsters who to tend hang around at Contact Theatre and similar venues were there getting sozzled on booze. When does 'alternative' just become a marketing strategy to attract people to another night in a 'vertical drinking' establishment?
Two of us went over to Tesco, bought some food and water, and sat at a picnic table at the rear of the building chatting.
Then at about nine o'clock about ten people who were planning to camp, left the bar and we headed off towards the chosen site. About seven tents were put up — which is easier said than done in the dark — and food was cooked and shared. The pole of a freedom flag was used to stir a pan because cooking utensils had been forgotten!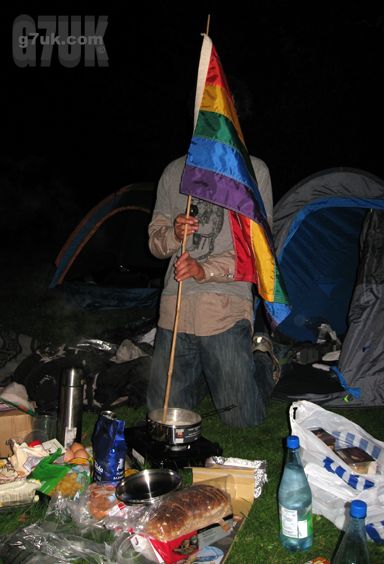 Again it began to feel more like an alternative to the mainstream. It would have been great if some of the performers had been there instead of in the bar. But I suspect one of the reasons why that doesn't happen is because drinking alcohol in public places is banned in Manchester and many of the hipsters just can't enjoy themselves without it.
So there you have the elephant in the room in all this: the British obsession with drinking these days and the dominant force in so many things now.