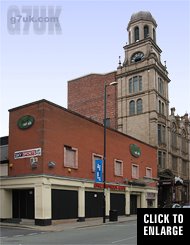 The lower building nearest the camera was once the Grand Theatre.
Built for Edward Garcia, and designed by a Mr Weldon, it opened as a circus on 29 September 1883 and then became a theatre. From 1916 until 1924 the building operated as a cinema, known firstly as the Palladium and then the Futurist. After which it became home to the Christian Science Church and by the 1980's was a quite stylish car showroom. Currently it's closed, having been a bar.
The Manchester Libraries Local Image Collection has a photograph from 1956 which shows the building and another from 1960. It seems there were shops at the front at ground level.
At some point after that the upper part of the theatre frontage was taken down and replaced by the unexciting red brick wall that we see today.
The caption on this photograph, from 1973, suggests at that time the site (and probably the Albert Hall next door) faced a compulsory purchase order and was destined to be a new police headquarters. But it never happened and the police are still based just a few yards away at the old HQ in Bootle Street, which runs along the back of the building.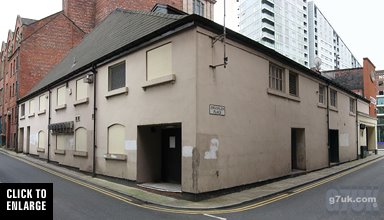 The rear is a bit of a mystery. The building seems quite small and has a low roof. How would a theatre fit into this building? Let alone a circus (don't send any giraffes!). The site is approximately 30m x 22m. I suppose it was just a very small music hall?
Here's an archive view that gives a glimpse of the back in 1908 — two years before the Albert Hall was built. It looks rather run-down and a sign on the roof advertises shows 'twice nightly'. This is how it looked in 1973.
This website has more information about the history of this building and many other theatres in Manchester and around the UK, past and present.