The government's new crime level street maps show that Manchester's gay village was the worse hot-spot for violent crime in the whole city centre in the month of December.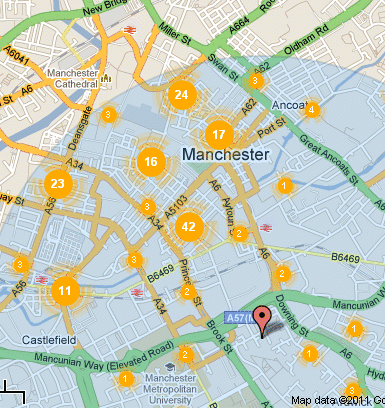 Crimes are mapped to an anonymous point on or near the road where they occurred and the numbers shown depend on the magnification. Fully-zoomed in, fourteen violent crimes are shown on Richmond Street – which is the street that runs behind Canal Street. While Bloom Street, Aytoun Street, Minshull Street and Canal Street itself show one violent crime each.
Brazil Street, off Sackville Street, shows a further ten violent crimes.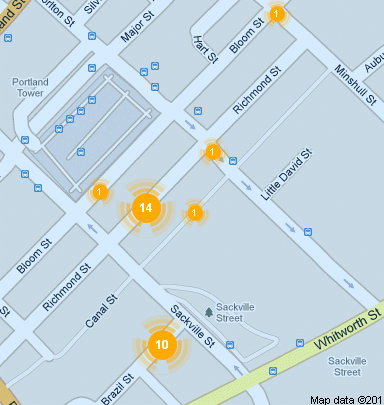 It's interesting that the largest figures are grouped and linked to streets that many people won't recognise the names of. Is this a real reflection of where the crimes took place, or an attempt to hide the problem in the clickable list of streets that can be brought up in the panel to the left of the map?
As you zoom out on the map, the figures are consolidated somewhat, with forty-two violent crimes shown near the gay village. The next worse areas are the Northern Quarter with twenty-five violent crimes and Deansgate with twenty-three.
The gay village also seems to be the worst for robbery, with the Northern Quarter a close second. Switching to figures for anti-social behaviour, again the gay village and Northern Quarter seem to be the worst spots.
It will be interesting to look at the figures each month. But it seems that finally we can see, laid bare, what many of us have suspected for a long time: that the gay village is not a safe space at all. And the blame lies with those who have turned the area into what it is today.
Will this lead to change and action to reduce crime or just to further attempts by certain (not all) officers on the street to dissuade people from reporting it?
By searching with a postcode you can check crime details for any area. The website also gives information about your local policing team and beat meetings.