The origins of Manchester Pride go back to 1990 when an August Bank Holiday event was set up by several of the gay businesses. The aim being to raise money for good causes – particularly for those connected with HIV and AIDS.
So it's quite extraordinary to hear that, this year, the opposite has happened; some of the money raised by Manchester Pride has been handed to the Village Business Association (VBA) – the body that represents businesses in and around Canal Street.
While many charities face cuts and a fall in income due to the economic situation, and some community projects get no financial support whatsoever, the VBA has received £4,000 which will go towards the cost of putting up a decorative arch at both ends of Canal Street.
This sum won't cover the entire cost of the project. But luckily it seems Manchester City Council may have some spare money for this.
At the same time as it announces it has been left with no option but to make 2,000 job cuts, the City Council may be able to find £8,000 to put towards this project.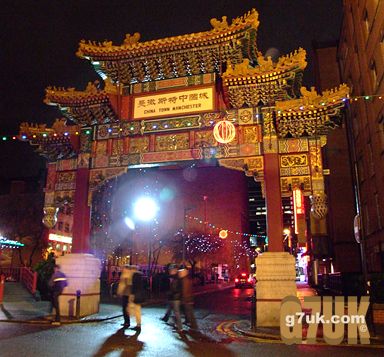 It's being described as an 'arts project' and the arches may look something like the structure in nearby Chinatown. But some people who bought tickets for Manchester Pride or put money into a collection bucket must wonder if this is an appropriate use of the charity fund.
Also, as news is announced that no less than three venues are threatened with closure, they might wonder whether charity money is being used to try and shore up the profits of businesses in the gay village.
UPDATE (May 2012): nothing has happened so far and, possibly due to the publicity surrounding this, the Council hasn't put forward any money for it. It's been suggested that the VBA will hand back the cash if the arch doesn't go ahead. We'll then check up to find out where that £4,000 ends up.
Where do these ideas come from? Birmingham City Council has given £10,000 towards a "rhinestone-encrusted model of a rhinoceros" that will mark the entry to the city's gay village.
When all kinds of services are being cut, spending public money on this kind of vulgar tat just brings the LGBT community into disrepute. If the businesses in Birmingham's gay village think this will boost profits then let them pay for it.