Update: (25 October 2011): part of this article has been removed while further research is done.
"Stockport NHS cut gay charity by 100 per cent" was the emotive headline in The Pink Paper on 26 May 2011.
This "exclusive" by Joanne Dunning, explains that NHS Stockport has discontinued its sexual health funding to the Lesbian and Gay Foundation and George House Trust "in full".
Richard Popplewell of NHS Stockport is quoted defending the decision and the LGF's Director of Programmes and Performance, Rob Cookson, highlights the "negative impact" that the cuts will have.
However, what The Pink Paper fails to tell its readers is that Joanne Dunning, the author of the piece, is actually employed by the LGF as its Press & Communications Officer.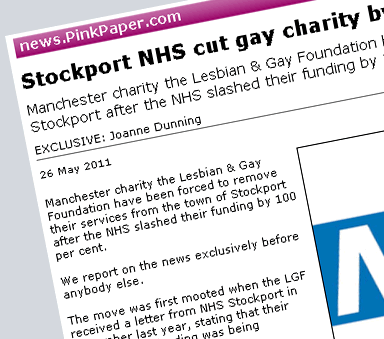 There's an obvious conflict of interest there and any decent newspaper would disclose it. I contacted Ms. Dunning by email on 11 July but at the time of writing (2 August) I've received no reply other than an automated response.
Another member of staff — the LGF's communications manager — did reply to an email to the general LGF address. I was told that the article had gone out to various media outlets. But when asked whether, in terms of transparency and good journalistic practice, the source of the article should have been made clear to the reader, there was no further response.
Why did the Pink Paper label it as an "exclusive"? And I discovered that on some articles Joanne Dunning is credited as The Pink Paper's "North-West Correspondent".
I wrote to Peter Lloyd the news editor of The Pink Paper on 6 July but at the time of writing I still await a response.
BARON HARD-UP (OBE)
Looking at the income figures from the accounts for the year ending 31 March 2010, readers may notice that the LGF received a grant of £61,562 from the Community Development Foundation Hardship Fund. This is despite the LGF's income from other sources having increased by £297,099 compared to the previous year. Total income was £1,724,152 in 2010 and £1,427,053 in 2009.
In 2008, income was £1,305,102 and in 2007 £1,344,522. In 2006 it was £1,313,599.
Can a 2.93% fall in income between 2007 and 2008 really be considered "hardship" compared to what many others have been going through since 2007?
At the same time as it pleaded hardship, the accounts for year ending 31 March 2009 show that the LGF increased staff numbers by 30% (see image). In 2008 it had a permanent staff of 23 and a year later this had increased to 30.5.
And the accounts for year ending 2010 show that the LGF has added a further 4.3 staff since (see image). Bringing the total to 34.8.