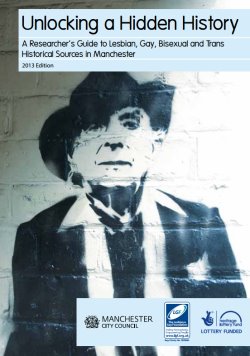 Manchester's LGBT Foundation published its document "Unlocking A Hidden History – A Researchers' Guide To Lesbian, Gay, Bisexual and Trans Historical Sources In Manchester", back in 2013. You can see it here (PDF).
It was funded by the Heritage Lottery. Over recent years the Heritage Lottery Fund has given out around a quarter of a million pounds for LGBT history projects in Manchester. Much of it to organisations which are interconnected and have the same clique of high profile people involved.
Some of us have asked what is there to show for such a huge sum of money? Manchester City Council was involved in this particular project too.
And there is another problem: accuracy. Some of the organisations which have received this money have a history of putting out incorrect information and misleading the public.
The same is true of the LGBT Foundation's "guide."

The front cover features a picture of Quentin Crisp. This is a piece of art which appears at the side of a doorway on Canal Street. On page three, the very first paragraph of text states "over the years, Manchester has also been home to many important LGB&T figures such as Quentin Crisp and Alan Turing…"

In reality there isn't a shred of evidence that Quentin Crisp ever lived in Manchester and called it "home".
He was born in Surrey and went to university in London. For more than four decades he lived in the first floor apartment at 129 Beaufort Street. It was here that documentary maker Denis Mitchell filmed him for Granada Television around 1968, after Crisp had written his famous book The Naked Civil Servant. Then in 1981 Quention Crisp moved to New York.
In November 1999, on the eve of a nationwide revival of his one-man show, Crisp died of a heart attack in Chorlton-cum-Hardy, a suburb of Manchester.
In a contemporary news report about his death, Patrick Newly, Quentin Crisp's press agent told The Guardian that he had spoken to Crisp who was in New York at the time "roughly two or three weeks" previously. It's clear that Quentin Crisp was in Chorlton-cum-Hardy for a matter of days.
And Crisp's friend Bernard Cops went so far as to say it was "tragic that Crisp, who loved the US and had applied for citizenship, had died in a Manchester suburb."
In March 2016 I contacted the LGBT Foundation to suggest they correct the mistake. I received an email reply from "A", a volunteer, who said it would be done.
However, by November nothing had happened. The "guide" was unchanged, still misleading the public and "researchers".
I contacted Tim Fountain, the author of Resident Alien, the play about Quentin Crisp. Had he ever come across any evidence that Crisp might call Manchester "home," I asked. He told me that the suggestion sounded "utterly implausible".
I wrote to the LGBT Foundation again. On 25 November I received a reply from "H".
"H" begins her email by claiming "I have no record of an email you sent in March regarding this, but following your email last week I have looked into this."
Unfortunately for "H" a copy of my original email from March, and "A"'s reply thanking me for it, appears quoted below her reply, as "A" sent her a copy following my second contact. So she seems to be fibbing when she writes that she has "no record" of the March email.
"H" continues:
"Our Researcher's Guide, which was published in 2013, states that, 'Manchester has also been home to many important LGB&T figures such as Quentin Crisp and Alan Turing who have made vital contributions to British society and culture.' This reflects the fact that Crisp spent his final days in Chorlton, died and was buried there. Having reviewed the full guide I'm satisfied that it does not contain inaccuracies related to Crisp, so will be taking no further action."
Do you think that staying with a friend for a day or two in a place, dying and being buried there is enough for you to call that place "home"? I don't. They even mention Crisp ahead of Turing.
And there's a further problem. Contrary to what "H" writes, Quentin Crisp isn't buried in Chorlton-cum-Hardy…
He was cremated and his ashes were flown to New York. This is stated on Wikipedia. I have also checked with Tim Fountain who confirms the information and it's stated on the website of Phillip Ward who was a close friend of Crisp and is his executor.
So even as the LGBT Foundation declined to correct its error, a member of staff gave out more factually incorrect information about Quentin Crisp.
Everyone makes mistakes. But refusing to correct them when caught out and shown the true facts is downright unprofessional.
Our history is much too important to be in the hands of careless people like this and, even worse, for them to be funded with precious public money to produce dodgy publications which, pretentiously, claim to "guide" history researchers.
Thank goodness there have been no huge consequences due to this schoolboy howler by the LGBT Foundation! But wait…
In September 2014 artists painted a giant mural on the side of the Molly House bar on Richmond Street in Manchester's gay village.
It features famous drag queen FooFoo LaMar, computer pioneer Alan Turing, suffragette Emmeline Pankhurst and, somehow, a minor current drag queen. All of whom have a strong connection with Manchester.
The other person featured is Quentin Crisp and back in 2014 many of us were scratching our heads about why that was.
It seems none of the organisations which claim to care about LGBT history really do when it comes down to truth and accuracy. Not the LGBT Foundation, Manchester Pride, the Heritage Lottery Fund, LGBT History Month or Manchester City Council.
It's a gravy train. About going through the motions, career opportunities, staying "in" with the right people at any cost and getting hands on cash. It must end.
UPDATE (20 December 2016)
This article is now in the top ten search results on Google for two key related searches. Surely it would be better for the LGBT Foundation and Heritage Lottery Fund to address the issue in a professional way, as requested, rather than have this? I don't understand them.