In 1989 the MEN called for an "awful" floral display in Piccadilly Gardens commemorating Stonewall to be "destroyed."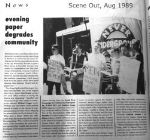 An article in Scene Out magazine, August 1989 issue, with the headline "Evening paper degrades community", reports on how a floral tribute in Piccadilly Gardens to celebrate the 20th anniversary of the Stonewall riots (the origin of gay pride), was sprayed with weedkiller by vandals. It happened after an editorial in the Manchester Evening News suggested that the display should be destroyed.

The display had been created by Manchester City Council. The MEN reported how office workers said it was "disgusting"and "awful." An editorial suggested that perhaps the city fathers should "order the destruction of the blooming thing." Vandals then did so.
Scene Out describes the coverage as "yet another attack" on the Lesbian and Gay community by the Manchester Evening News. The editor claimed that the paper was "totally unbiased" in its coverage of the gay community. However campaigners highlighted the MEN's then columnist Andrew Grimes and his "regular, ranting bigotry about gays."
There was a protest outside the offices of the MEN on Deansgate (shown in the photo). Paul Fairweather being one who was there. Two of them were invited in to speak to the Deputy Editor after being informed by security that six was considered "a mob."
This will all be news to younger readers. But some of us older LGBT people have a long memory. Some will say it's more than 25 years ago. But while the Tories are still slated for Section 28 on a regular basis, other homophobia from the time has been airbrushed away and despite £250,000 of Heritage Lottery funding having been spent on "LGBT history projects" in recent years.
These days the Manchester Evening News poses as a supporter of LGBT people and is a "media partner" to Manchester Pride. But, at the same time, it continues the dirty tricks when it comes to LGBT campaigners who are fighting for lawful rights — such as those surrounding the illegal street closures during that same corporate Manchester Pride.
In its response to the FactsMCR naked streak spoof, MEN owner Trinity Mirror wrote that the paper was "proud of its longstanding support of Manchester Pride." But you can see that, in 1989, as the commmunity organised HIV fundraising jumble sales on Canal Street, and years after the first pride had taken place in the city, the Manchester Evening News deliberately degraded our community.
Thanks to Archives+ at Manchester Central Library where the Scene Out magazine was found.