It comes as a breath of fresh air to realise that there are still good people around in Manchester who are not focused on relieving you of as much cash as possible.
Situated at 24 Lever Street, in the heart of Manchester, and just a heartbeat away from Piccadilly Gardens, The Basement is a spacious social centre that has a vegan cafe, library, bookshop, free computer area (including wifi) and exhibition space. There are free courses, social groups and film shows.
But no pressure to buy anything! The centre is staffed entirely by volunteers and income from the cafe pays the rent.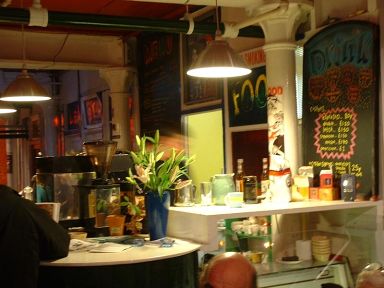 The whole place has a welcoming, warm and peaceful feel to it, even though often it's buzzing with activity. There is nowhere else quite like it in Manchester.
So, whatever your age, whoever you are, why not pop in, surf the net, have a vegan latte and food, read a book, relax and chill out and maybe make some new friends?
More photos here.