The poster for Manchester Pride 2007 is out and about. But nowhere on it will you see the words 'gay', 'lesbian', 'bi' or 'transgender'. The nearest you'll get is the phrase 'LGBT charities'.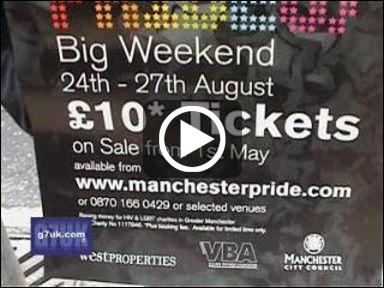 You see, they don't want us to be proud of who we are. They would prefer it if we could keep it quiet please. 'Gay' and those other nasty embarrassing words might affect ticket sales to the all-important none-queers in Manchester who come along to Canal Street on August Bank Holiday.
In turn, that would mean less money for the also-very-important businesses in Manchester who make £20 million out of Pride. That just wouldn't do…
So please don't offend the straight people. They're coming along for a laugh at the poofs, dykes and trannies. They only want a good time and to feel good about how tolerant they are. Please don't embarrass them.
It's fine for the word 'gay' to be used on BBC Radio One and all over the place in its new meaning to describe something that is 'rubbish' or 'crap', but please let's keep it quiet when it's used to mean 'homosexual'.
Actually I think the organisers of Manchester Pride really are 'gay'.
Note the sponsorship by West Properties — the company that is building the tower that will overshadow the gay village.
We thought this was all a bit crap and another example of the way our community and Pride event have been taken over by big business, marketeers and the City Council. So we grabbed the video equipment and went down to Canal Street to find out what people thought. You can see the result above.