Note: be sure to read the extended comments below too.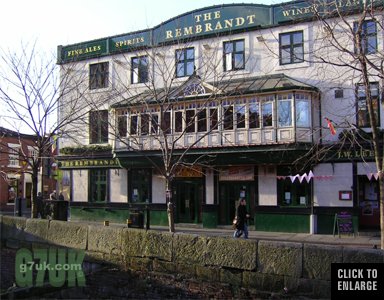 In his talk on Tuesday, Ray Gosling mentioned something that I'd heard before. Namely that 'moors murderer' Ian Brady met his final victim, 17-year-old Edward Evans, in the Rembrandt Hotel.
Ray Gosling at the Manchester Central Library on 12 February 2008. Duration: 54 secs. This is from a one hour recording of the talk which was part of LGBT History Month.
I first heard this story from an elderly gay friend in the 1980s. He claimed that Ian Brady was a regular in the Rembrandt.
The Rembrandt is one of Manchester's oldest gay bars and used to be called the Ogden Arms. It stands on the corner of Canal Street and Sackville Street in what is now the 'gay village'.
The official version is that on the night Edward Evans was murdered Brady met him at Manchester Central Station (now G-Mex) and some accounts suggest that the pair didn't know each other previously.
In the book '50 True Tales of Terror', edited by John Canning and published in 1972, one chapter is 'The Moors Murder Horror'. In it C.E.Maine writes:
"…Brady decided to pick up some beer in the Central Station buffet. When he arrived he found it closed and he had also found young Edward Evans standing by a milk vending machine. Evans was dark and slim, wearing a suede jacket, suede shoes and tight jeans. He looked as if he might be homosexual; whatever the truth, Evans accepted Brady's invitation to go back to his home for a drink."
However, according to The Times of April 30, 1966, in court "Brady described how he met Evans whom he said he knew as a homosexual, at Central Station, Manchester." Which suggests that Brady already knew Edward Evans.
Did Brady know him from his visits to the Rembrandt? Is it possible they met at the Rembrandt on the night of the murder?
Could Brady have lied about where he met Evans that night, rather than have it come out that he was a regular at the Rembrandt? Could Brady and Hindley have come up with that story before their arrest, perhaps to tell David Smith? Were there any witnesses to the meeting at Central Station? I don't know…
In those days Manchester's gay bars were forced to make payments to corrupt police officers in return for a quiet life. Could the police have had a hand in changing details of the Brady/Evans meeting place in the statements, rather than have it become public knowledge that a pub near the canal was a hotbed of homosexuality (which in the early 1960s was still illegal)? Probably not, because Cheshire Police handled the investigation.
And the police did discover some of the evidence in two suitcases that had been left at the luggage office at the station.
According to this article about Myra Hindley in the Daily Mail: "Brady was regularly disappearing on expeditions to the Rembrandt gay pub in Manchester city centre."
But while gay bars were hardly 'mixed' (gay/straight) at all in those days, the fact that Brady went to the Rembrandt doesn't mean he was gay.
Gay men were an ideal target for criminals (blackmailers for example) as they were far less likely to go to the police. Indeed, it was reporting a burglary that landed Alan Turing in trouble in 1952.
And when a group is criminalised, it tends to drift towards hanging out with other "outlaws". Even when I moved to Manchester and first went on the "gay scene" in 1982 there was that same feeling. It was then sixteen years since the law had changed regarding male homosexuality, but the authorities — including Manchester chief constable James Anderton — continued to persecute the LGBT community.
So, although the scene felt welcoming and safe in many respects, there were still lots of dodgy characters around and sometimes an air of criminality. There were crooks (which Brady certainly was), gangsters, 'gay-for-pay' rent boys and others who were on the fringes of society.
Would any regular at the Rembrandt in the early 1960s have helped the police, even on this terrible case? It's unlikely. Within the gay community there was a deep distrust of the police until well into the 1990s.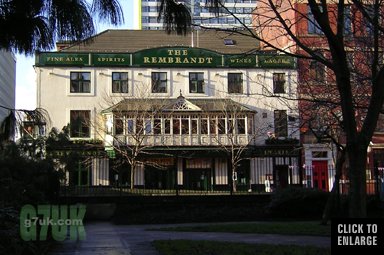 There are some other interesting details here [archived copy]. Can it be true that someone who had a close connection to the pub burnt it down, together with "some friends", because he felt it "to be so tainted by Brady's presence"? Suggestions that the name was changed then, seem to be untrue. This photo, from 1962, shows that the pub was The Rembrandt before the murders started (the first is believed to have taken place in 1963).
I'm fairly sure that the North Wales serial killer Peter Moore was also a regular at 'the Rem' in the 1980's or early 1990's. I have a good memory for a face and his looks horribly familiar…
Update (14 September 2011)
Minor changes were made to this article, extra information was added and a link was updated to go to an archived copy because the original website has gone.
Update (10 August 2012)
In the 2006 Granada Television drama "See No Evil" Ian Brady suggests he could "go down Canal Street" and "pick up a businessman shall we say of a certain sexual orientation" to rob.
But it's highly unlikely that anyone would have referred to Canal Street in this way in 1965. It's about as silly as having someone talk about going to the curry mile in Rusholme.
Not only would the street name have meant nothing to David Smith, whom Brady is talking to in the scene, but most gay men wouldn't have had a clue where it was either.
Even in the 1980s, as a regular at the Rembrandt and Union pubs, I would have had difficulty telling you where Canal Street was (though I could have guessed). It was an irrelevant back street with no venues on it, just the Rembrandt and Union on two corners. There was no sense of it being a "gay street" until the 1990s.
In the 1980s Bloom Street was regarded as the focal point for the LGBT community and the term "gay village" was only just beginning to be used. However, gay venues were still spread out across Manchester city centre, as they had been probably for hundreds of years.
And as for the phrase "sexual orientation" even The Guardian doesn't use it until 1973. While The Times uses it for the first time in 1955 but then not again until 1972.
Update (6 April 2013):
Some members of a forum on this subject are up in arms about this article and the suggestion that Edwards Evans might have been gay (or presumably bisexual).
He was "NOT GAY" according to one poster, a close friend said so, and apparently having a girlfriend is proof. I'd ask how anyone can possibly know that for certain about another person, particularly a 17-year-old? Even today there are numerous men who have wives or girlfriends and who are bi or gay unbeknown to their family and close friends.
How many men felt able to be open in the early 1960s when homosexuality was a criminal offence? Family and work colleagues would be the last to know — if they ever did.
It's easy to understand why these aspects of the case might have been played down at the time, particularly for the sake of Evans' family. But it isn't wrong or an insult to discuss the subject now, almost fifty years later. Particularly when several gay men who were around at the time have stated that Brady met Evans in The Rembrandt.
It's about finding out the truth if possible and exploring aspects of something that happened at a time when many things to do with homosexuality were swept under the carpet.
Unfortunately some people are eager to dismiss and close down discussion. The attitude: be quiet, don't embarrass or cause upset by mentioning "it" is something that anyone who is queer is all too familiar with.
Maybe things haven't changed nearly as much as we think?