I saw this sad ad in an estate agent's window on Deansgate. In case you don't know, the building that was The Hacienda nightclub was completely demolished in 2002. An apartment block was put up on the site and is now marketed as 'The Hacienda'.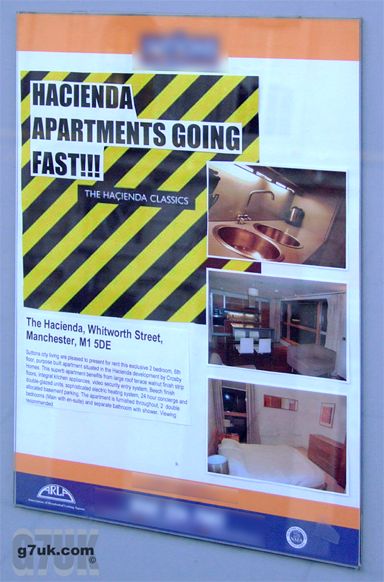 Sorry if you just bought one of these and didn't know that. If you bought one and did know, well you haven't bought a piece of The Hacienda. It doesn't make you look cool. In fact it makes you look a bit of a mug, as all you've done is fall for some cynical marketing. The idea that a piece of 'Madchester' from twenty years ago will attach itself to you. It won't.
Sure, it's always interesting to know what stood on the spot where you live. But I'd hate to live in the 'Hacienda Apartments' because the whole concept and the way it is promoted (including hijacking the original Factory Records designs), is naff and depressing.

Three months before the release of the film '24 Hour Party People', developers Crosby Homes unexpectedly demolished the building that had housed the Hacienda. Apparently this had the support of both Manchester City Council and Tony Wilson.
Despite the fact that the Hacienda days are hyped endlessly in the marketing of Manchester, nothing could be allowed to stand in the way of grasping property developers and their need to squeeze in as many flats and parking spaces as possible and regardless of any other considerations, such as history and genuine authenticity.
All concerned would surely have know about the imminent release of the movie and must have breathed a huge sigh of relief at being able to destroy the building before it became even more famous?
Here's a photo of the original building, with commentary on the misguided demolition.
I never went to The Hacienda. In fact I can count the number times I've been to non-gay clubs in Manchester over the past 25 years on the fingers of one hand.
In the mid-1980's, there was a gay club in a railway arch on Whitworth Street called The Archway (the venue is now called The Roundhouse). I went there a couple of times and saw people trooping along to go to the Hacienda which was further up the street. But no one I knew ever wanted to go and neither did I. We never even heard about Divine performing there.
My partner of the time was heavily into music and while it's true we had our own very separate gay clubs and our own music, I find it strange that we never once went to this supposedly amazing world famous and ground breaking club that was just along the street. In fact, from a gay point of view The Archway was quite groundbreaking, with scaffolding and an 'industrial' interior.
For us there was no sense that The Hacienda was anything other than a rather-druggy straight venue that attracted lots of scally-lads and probably aggro (in gay venues of the time there was rarely trouble, so who needed that?). So I can't help thinking that The Hacienda and Factory Records have been massively over-hyped retrospectively. As Manchester has a habit of doing.
I've heard the history numerous times now. Seen the film and the documentaries and I'm bored with it. Time to move on Manchester and do something new. And don't believe the hype everyone. Particularly when it's being used to sell you something, be it a dream, a city or an apartment. Manchester is currently overrun by an infestation of marketeers