As the running costs of Manchester Pride continue to spiral out of control, it has emerged that anyone buying an 'early bird' ticket this year will pay £12.50. A 25% increase on last year's price of £10.
The poster states that early bird tickets are available from 1 May, for an unspecified 'limited time only' and that all tickets are subject to a booking fee. Last year the period for buying an early bird ticket was greatly reduced.
No word yet on the price of tickets nearer the event. If they are also up by 25%, that would be £22.50 compared to last year's price of £18.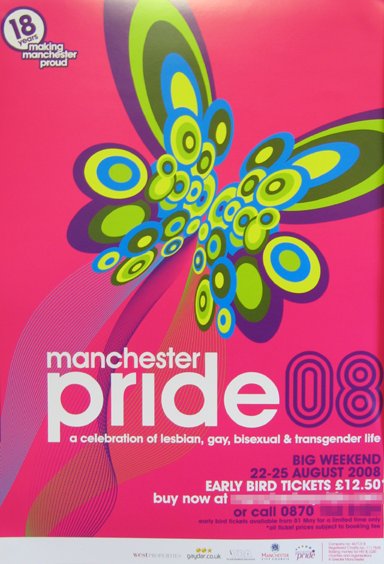 On its website, Manchester Pride admits that, in 2007, costs and expenditure were double what they were in 2004. A 100% increase in three years. Expenditure in 2007 was a staggering £708,000 out of income of £803,000. Leaving a mere £95,000 for good causes — just 12% of the income.
On the site this is presented as if it is an inevitable fact of life. In truth it comes down to how the organisers (mis)manage the money. Ask yourself how much your income increased in that same three year period. Inflation probably averaged out at 3% a year.
Back in 2000, everyone was able to enjoy GayFest for free and it raised £105,212 for good causes. Allowing for inflation over seven years, that sum is equivalent to about £126,000 in todays money.
In 2002, costs for the entire Mardi Gras event were reported as being £106,000. If that figure is accurate, it means that, five years later, annual running costs had increased by an incredible 660% (to £708,000).
Meanwhile, the charity amount has fallen:
2007 £95,000 (pay event)
2006 £70,000 (pay event)
2005 £120,772 (pay event)
2004 £129,426 (pay event)
2003 £127,690 (pay event)
2002 £65,000 (free event)
2001 £70,000 or £100,000 – reports vary (free event)
2000 £105,000 (free event)
1999 zero raised (pay event) ***
In 1994/95 the Village Charity was able to give out grants totalling more than £60,000, with the free August Bank Holiday event as its biggest fundraiser.
We should also take into account inflation. It is reckoned that, over ten years, prices have increased by about 35%. So that £60,000 raised by the Village Charity in 1994/95 was equivalent to about £85,000 in 2007. The £105,000 raised in 2000 was equivalent to about £130,000 in 2007 terms.
How much longer will Manchester's LGBT community allow this to continue?
To end on a more positive note, at least the words 'Lesbian, Gay, Bisexual and Transgender' have been restored to this year's poster after disappearing in 2007.