The streets of the gay village will be open to everyone during Manchester Pride this year, whether they pay or not, and we think Sackville Park will be too.
This is because Manchester Pride has acted unlawfully since 2003 in closing the streets to pedestrians who didn't pay. In fact, blocking members of the public who were on foot was probably a criminal offence. Manchester City Council had unlawfully included pedestrians in its traffic order for the event and last year they had to rewrite it to remove this.
In April 2015 the Local Government Ombudsman ruled (see below) that blocking pedestrians from premises (homes and businesses) was "unlawful" and the previous August the Department For Transport had said in writing that it shouldn't happen.

Pride still aren't telling you this. They want your money as usual and no doubt they're frightened about legal action by the thousands of people who were blocked and charged for 11 years. The media are staying quiet too. Some of them receive ad money from the event.
So what will you get for your expensive ticket this year?
You will need a wristband to enter the Bloom Street car-park where the main stage is. You will need one to get into some bars and clubs (so you can spend money!). However we believe others will let you in without, as they did last year.
Manchester Pride can't stop you using a camera, eating on the street or carrying a bottle of water. Their guards have no power to search your bags, stop or delay you on the street. They may not allow wristband holders into the streets of the gay village before you or prioritise them. This would be a "two-tier" system which the Department For Transport has said is not allowed. These are normal public streets like any others.
Residents and their visitors no longer need a pass from Manchester Pride. In the past Pride claimed to be able to "grant entry" to homes. That was unlawful as they had no such power. Here is the letter Manchester Pride sent to residents in 2011. It was passed to campaigners by an angry resident. How would you like to receive this?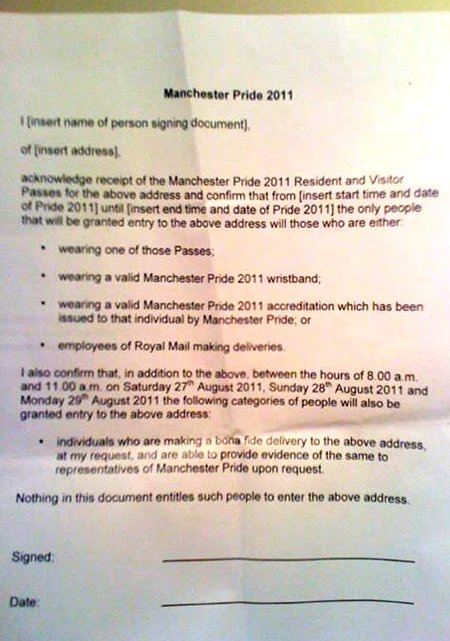 Manchester Pride has a long history of unpleasant and sometimes authoritarian behaviour. Teenagers were bullied over a "pride not profit" banner in 2008. Users of mobility scooters were ridiculed as "chavs" and "lazy bastards" by the current chair on Facebook. While the chair of the so-called "community collective" (a bar manager) made a post implying that all terrorists were Muslim men.
In 2014 the same individual called for a boycott of businesses that didn't cough up and "donate" to Manchester Pride. Think about that… Someone who stood to benefit financially from the fenced Pride weekend through his employment (and there is even a question about whether he had a financial stake in the business) called for a boycott of completely law-abiding businesses that wouldn't pay up to fund Pride.
Then, during the weekend, the police, who are paid some £50,000 by Manchester Pride, stood and watched while pedestrians were unlawfully blocked by security guards employed by Pride. So hired thugs and paid police were used to prevent customers from accessing those very same businesses and spending money in them because they hadn't bought a Pride wristband.
In 2015 a professional photographer was told by a key member of Pride staff that if he didn't delete a particular photograph he could be removed from the parade route. This was on a public street in Manchester city centre. Even the police don't have the power to prevent photography on a public street…
Despite these incidents you will be told that this event is about promoting equality and diversity and is a charity fundraiser. In fact, some years less than 5% of Manchester Pride's total income reaches good causes.
In 2014 Pride had an increase in income of £290,000. Yet just £54,021 was raised for causes and £9,000 of that wasn't even given out.
In 2015 £137,000 was raised. Just slightly more that the £131,062 17 years previously in 1998. Factor in the effects of inflation and the fundraising now is absolutely pitiful compared to the days when the weekend was free to attend.
If you want to give to charity, choose a reputable one well away from this event and ask them how much of your donation is spent on their costs.
Blocking LGBT people and others from the public streets of the gay part of town and charging them to enter, for 11 years, when apparently all along doing so was "unlawful", must be one of the biggest scandals in LGBT history.